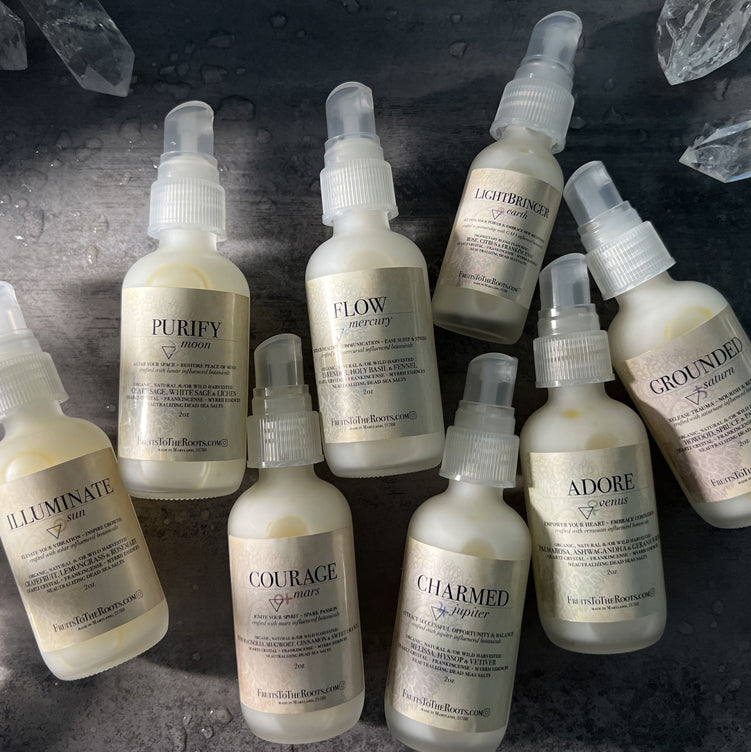 8 Planets | Energy Mist Set
All of our incredibly supportive Energetic Planetary Mists, in a full size set, with QUARTZ CRYSTAL point inside each bottle for creating crystal grids and talismans of your own.
Whether you are a hard working mamma, a wellness specialist, or someone exhilarated by the thought of adding a bit of extra INTENTIONAL thought to your daily routine, we are thrilled to offer these specially crafted energy mists to your home and your heart. Make for a wonderful natural perfume or cologne! 
May you find emotional balance, spiritual awareness, soulful connection, and bodily health through and through.
All EIGHT energy mists, crafted with intention & love

Each one is uniquely designed with intention and in alignment with the primary 'planets energies' - to promote overall balance and help shift your direct energetic environment to further your balance.


Illuminate | Sun
Purify | Moon
Courage | Courage
Flow | Mercury
Charmed | Jupiter
Adore | Venus
Grounded | Saturn
Lightbringer | Earth


all in glass bottles 2oz (original 7 planets) and 1oz (lightbringer)
Each energy mist contains a proprietary blend of essential oils, resins, extracts quartz crystal essence & neutralizing dead sea salts
VEGAN

Each product offering is formulated & made by us, at our in-house Beauty Lab, in small batches. Due to the nature of raw plant materials, there may be some variation from batch to batch but our formula ratios remain the same.

*These statements have not been evaluated by the FDA. This product does not intend to treat, diagnose, cure, or prevent any disease. If you're pregnant, breastfeeding, or on any medications, please consult with a qualified health professional before beginning any new herbal products.
shake gently
clear your mind
set your intention... MIST : face, body, bed linens, rooms, office - wherever you need a little shift in the 'energy' or guiding force

helps to promotes overall balance & benefit your direct environment
Go Deeper...
Find space, explore your senses...play and set intention with this Planetary inspired set of smudging aromas.
Love Note
These FTR original aromas have been a pillar of our product line from day one. I hope you enjoy layering, playing and experiencing the relationships with each Planetary essence.

You hold all the answers within. Be brave. Breathe and Transform your Unique Being.

Specially selected small gemstone or quartz point in each energy mist.