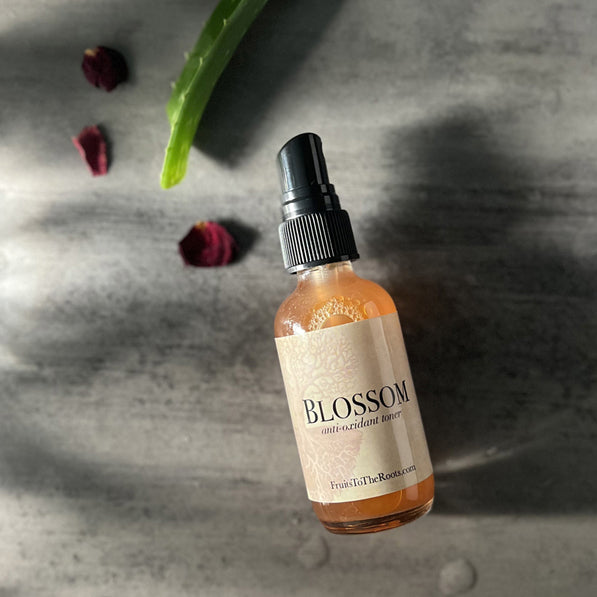 Blossom, anti-oxidant toner
most, dehydrated, and undernourished
aloe, ashwagandha, and rose
Created with soothing and moisture rich ingredients to balance and nourish many skin types. This anti-oxidant rich toning mist is the perfect dose of spring-like freshness to any skin care ritual.

2oz glass bottle
color may vary batch to batch yellow-orange, to pink
Botanicals

Rose Hydrosol & Aloe Vera - hydrating and calming

Rose Hips - natures Vit C to boost skins pigmentation and cellular regeneration

Ashwagandha - firming for the skin, improves circulation and supports the skin's natural protective oil production

Pearl - a powerful ancient skin care ingredient used for smoothing & maintaining glowing skin, while helping reduce de-pigmentation, like age spots and melasma

Geranium - to help balance hormonal breakouts and give your energy a boost!

full ingredient list : *rose hydrosol, *witch hazel, aloe vera, *glycerin, *palmarosa, geranium, *frankincense, watermelon extract, lactobacillus ferment, *rose hip oil, *rosehips, *rose petals, *marshmallow root, *hibiscus, *ashwagandha, *beet root, dead sea salt, pearl gem extract, sodium phytate, citric acid, potassium sorbate, NOURISHMENT & LOVE
*organic

Each product offering is formulated & made by us, at our in-house Beauty Lab, in small batches. Due to the nature of raw plant materials, there may be some variation from batch to batch but our formula ratios remain the same.

*These statements have not been evaluated by the FDA. This product does not intend to treat, diagnose, cure, or prevent any disease. If you're pregnant, breastfeeding, or on any medications, please consult with a qualified health professional before beginning any new herbal products.
Mist generously over clean skin, before and after applying moisturizers or oils, helping to absorb all nutrients and seal in hydration.

This decadent mist can also be used from head-to-toe throughout the day to reduce stress, brighten your spirit, enhance scalp and hair health.

Repeat once you have applied makeup to help set and maintain a dewy glow.


Go Deeper...
Planet : Sun & Venus
Love Note
Embrace the Graceful being YOU are.