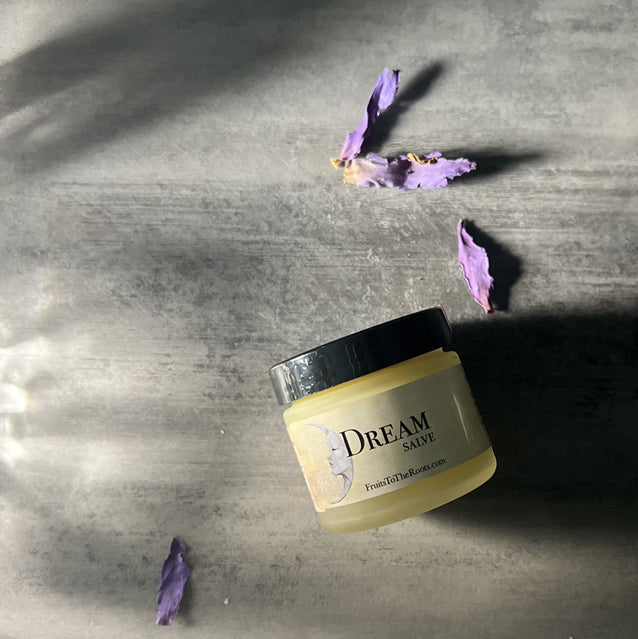 blue lotus, california poppy, and peppermint
Clear your Breathing passages

Soothe body & head aches
Reduce chest congestion & cough
Inspire Dreams & Lucid Dream activation 
Deepen your Spiritual connection, Know Thyself
Benefit deep Relaxation & Meditative States
2.35oz, glass jar
Botanicals

Blue Lotus - to deepen your connection to inner eye work

California Poppy - to enhance relaxation

Yerba Santa & Peppermint - to help open up the breathing passages and soothe the sinuses

full ingredient list : avocado oil, *olive oil, beeswax, *chamomile, *kalea, *hops, ~blue lotus, *blue vervain, *california poppy, *kava kava, *mugwort, *skullcap, *melissa, ~yerba santa, *elderflowers, *valerian, *menthol crystals, ~eyebright, *lavender, *patchouli, *peppermint, *vetiver, *thyme, *spikenard, and vitamin E
*organic
~wild


Each product offering is formulated & made by us, at our in-house Beauty Lab, in small batches. Due to the nature of raw plant materials, there may be some variation from batch to batch but our formula ratios remain the same.

*These statements have not been evaluated by the FDA. This product does not intend to treat, diagnose, cure, or prevent any disease. If you're pregnant, breastfeeding, or on any medications, please consult with a qualified health professional before beginning any new herbal products.
Rub onto chest, third eye, the temples, pulse points, under the nose, on the chest- simply put, apply topically to the skin.

Contains menthol- so it is important to avoid all areas of of the body you experience heightened sensitivity.
Go Deeper...
Planet : Moon & Mercury
Love Note
Created during the New Moon, in Mercury hour to enhance your connectivity to your inner knowing.

Latin root word "salve", meaning to be of good health or be in good physical condition.