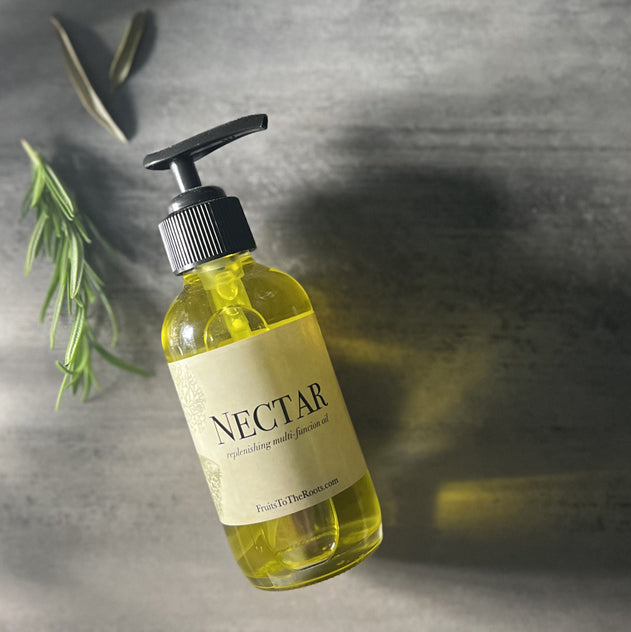 jojoba oil, calendula, and arnica
Sometimes, we are unsure of where to start when it comes to our skin. THIS is a great place to begin.

Enriched with oils and botanicals to help stimulate lymphatic drainage, and developed for to benefit face, body, scalp and even hair, this oil is a true beauty staple!

Packed with possibilities, Nectar is wonderful as an oil cleanser, used with gua sha tools or solo as a massage oil, skin and even beard conditioner - crafted with nourishing oils that gently absorb into the skin, we infuse this golden skin elixir with vitamin rich botanicals that harness moisture, and a bit of inflammatory relief.


4oz, glass bottle
Botanicals

Sesame- the immense presence of fatty and linoleic acids, along with Vitamins E, D and B complex make this a rich hydrating option that helps reduce scars and rashes

Calendula- soothes irritation and inflammation and is helpful for even the most sensitive of skin and improve

Horsetail- high in silica this wonder herb helps to support supple, hydrated skin, and cell regeneration

Melissa- beneficial 'anti-viral' properties, astringent for the skin and helps improve energy levels

Arnica- to reduce aches and pains and benefit circulation



full ingredient list : *jojoba oil, grapeseed oil, *sesame oil, *olive oil, *calendula,*melissa, *arnica, *horsetail, *holy basil, *rosemary, *litsea cubeba, RADIANCE & LOVE
*organic
Sky is the limit, but we like this used for...

Body Oil- OUR FAVORITE way to use Nectar. Massage into damp skin at the end of your shower, then PAT yourself dry.

Bath Oil- add several generous 'pumps' of this oil directly to your bath water for a luxurious and soothing all over body oil.

Massage & Lymphatic Release- you know where it hurts, rub into skin with circular movements or just use for its decadent hydrating qualities in place of a lotion.
This is a wonderful oil to use with your gua sha and facial cupping tools, or forget the tools and use what nature gave ya! Your fingers work just fine for a delightful facial massage.

Makeup remover- add several dollops to your hand and massage into damp or dry skin. Use a warm damp cloth or cotton swabs to gently remove makeup and residue from the skin. repeat as necessary.

Face Oil- This is a personal favorite of Lauren's for when your skin is freaking out. She highly recommends it to replace your regular moisturizing ritual when you feel like your skin needs a bit of extra help healing and recovering from hormonal breakouts.

Hair Oil- massage into the ends of your hair and wear a cap or wrap in an old towel for 30 minutes. shampoo and condition as usual. Can also be worn overnight. LAUREN loves!

Beard oil- massage into that stache or beard daily- all the way down to the skin! helps create luster, skin balance, and healthy skin/hair on your face! BRIAN loves.

*however you use your oil - make sure to stay safe, as oils can create slippery surfaces





Each product offering is formulated & made by us, at our in-house Beauty Lab, in small batches. Due to the nature of raw plant materials, there may be some variation from batch to batch but our formula ratios remain the same.

*These statements have not been evaluated by the FDA. This product does not intend to treat, diagnose, cure, or prevent any disease. If you're pregnant, breastfeeding, or on any medications, please consult with a qualified health professional before beginning any new herbal products.