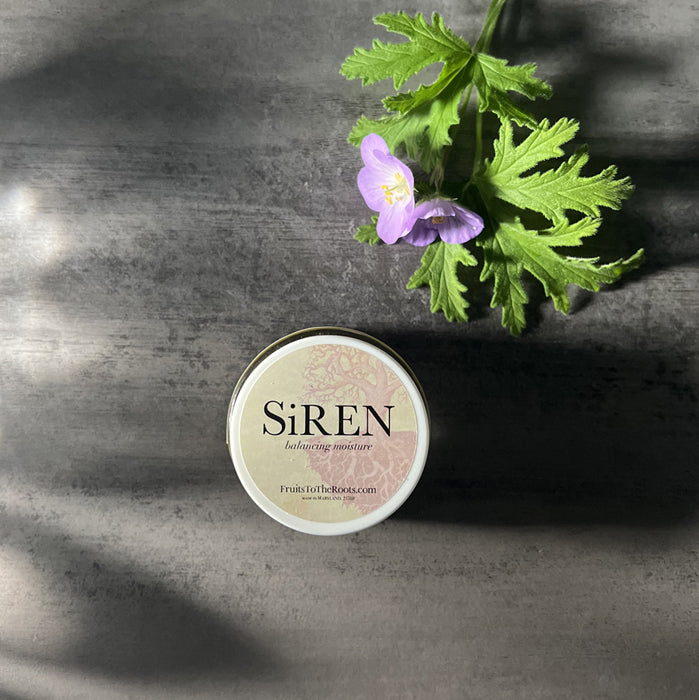 combination, hormonal, and acne-prone
ashwagandha, immortelle, and cocoa butter
Enjoy the Unique song of your Beauty with this nutrient rich balancing balm. 

This 'waterless' moisturizer is surprisingly absorbent, pure and lovely for every bit of you. This moisturizer features a blend of plants, oils and butters known to improve circulation, reduce irritation from problematic skin issues like acne, and 'thin feeling' skin. Especially beneficial for 'hormonal' or highly 'reactive' skin - no matter your age.

We are so in love with this sweet treat. While we feel that combination skin can benefit all year, its unique complexity offers something for nearly every skin type during warmer seasons, or living it up in warm/damp climates.
1.15oz | glass jar
Ashwagandha - a potent antioxidant, inspiring youth, healthy skin structure & vibrance

Immortelle - rejuvenating for even the most delicate areas this wonder flower helps to reduce fine lines, irritation from numerous skin disorders like eczema and psoriasis, and even has been known to soothe menstrual cramping

Cocoa Butter- wondrous for its rich nourishment, vitamin E and potent anti-oxidant properties, this butter is also rich in theobromine and caffeine to help shrink cells that store fat, as well as improve circulation on a micro level. We love cocoa butter for its overall ability to help the skin retain moisture while creating a protective barrier. While you will find it is highly moisturizing, it absorbs well, and won't leave that intense 'greasy' feel on the skin

Geranium Rose - to reduce blemishes, inspire hormonal balance, and help revive tired skin

Borage - new to this balm, we added it for its rich omega-6 and omega-9 fatty acid profiles, to protect the skin from stress, reduce dehydration, help alleviate itchiness and improve healing

Sensory rich 'botanical blend' - improving circulation, stimulation and self enjoyment



full ingredients list : *cocoa butter, *coconut oil, *olive oil, beeswax, *geranium rose, *rose, *maca, *shatavari, *ashwagandha, *immortelle, *clove, *borage,*damiana,*epimedium, pearl, *catuaba, *kava kava, *spearmint, *muira puama, *yohimbe, and vitamin e
*organic

Face, neck and decollete : melt a small amount, less than a pea size into for nutritive protective moisture, caress every contour to full absorption. You may also find this wonderful for around the eyes.

For Body, indulge in this silken balm anywhere you please and massage to contentment.

Additional use (we suggest to keep a separate jar on hand for these practices) :

-May help reduce menstrual cramping via applying topically to low back, abdomen, and even your lovely bits. This decadent healer will absorb and work into the body to help relax and benefit those uncomfortable moments- perhaps even stimulate some soothing pleasure.


-ENJOY this decadent moisture as a natural 'self pleasure' option. YES, you know what we mean. You, or you and your partner deserve a clean and fun loving lubricant. No need to thank us, just relax and enjoy! Experience vigor, improved endurance and vitality.*keep in mind oil based lubricants are not successful preventatives as they will interfere with a condom and are not good for most "toys." Please enjoy these methods of use responsibly!



Each product offering is formulated & made by us, at our in-house Beauty Lab, in small batches. Due to the nature of raw plant materials, there may be some variation from batch to batch but our formula ratios remain the same.

*These statements have not been evaluated by the FDA. This product does not intend to treat, diagnose, cure, or prevent any disease. If you're pregnant, breastfeeding, or on any medications, please consult with a qualified health professional before beginning any new herbal products.
Go Deeper...
Planet : Venus
Love Note
Sensory rich 'botanical blend' - improving circulation, stimulation and self enjoyment...
Whispering to you of desire, confidence, and joy. Offering you glowing vitality, indulge and enjoy in the vibrance of your beautiful being.