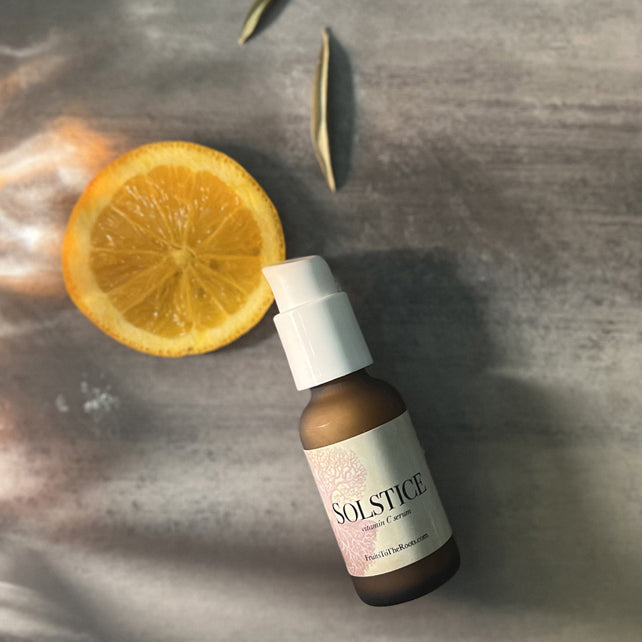 Solstice, vitamin c serum
most skin types, graceful aging, and dehydrated
Vitamin C, Watermelon, and Kojic Acid
Vitamin C powered creamy face serum, benefitting DEEP RESTORATION and RADIANCE. We developed this formula with the FINEST quality and most stable form of Vit C available at a max of 10%, to give you the ultimate vitamin c option available, even for sensitive skin types!

Benefit cell turnover, reduce hyperpigmentation, restore skin from sunny days, improve texture and moisture retention!
1oz, glass bottle
Botanicals

Watermelon extract- this juicy moisture helping super fruit is rich in potassium, Vitamins A, C, and B, amino acids, and lycopene, a powerful antioxidant that helps minimize the appearance of wrinkles, fine lines!

Goji & Acai - the ancient healing powers of these powerhouse fruits date back as far as 800 A.D. high in vitamins and antioxidants these we use a 'dehydrasome' of both fruits. In this form when applied to the skin, their phospholipid action creates a plump look- minimizing the appearance of existing fine lines, and assists in a protective skin barrier to enhance repair.

Pomegranate Oil - known to repair skin from UV exposure and help areas of the skin that have thinned pre-maturely to bounce back to fullness, helps to improve the skins ability to heal from dermal skin conditions like eczema, and is packed with anti-inflammatory, anti-oxidant and deep cellular support!


Rooted in Science

Kojic Acid - this wonder ingredient has been used for decades to reduce hyper-pigmentation, age spots, melasma and even lighten scars!

VITAMIN C - A highly skin accessible form of vitamin c, suitable for even sensitive skin types! This is the most potent and stable form of vit c available, and we are using this wonder-ingredient at a safe, yet fully functional 10%
See this VITAMIN strip away your fears of aging, leaving you feeling revived and confident in your beauty everyday!

Hyaluronic Acid - is a compound that is found naturally within the skin- keeping it moist and looking youthfully plump. Just like many other naturally occurring compounds, the amount naturally found within our skin's cells decreases with age. With the magick of science there is now a way to keep boosting that 'humectant' moisture drawing action, of H.A. that helps the skin maintain its youthful look and feel. You're welcome, and thanks Science! We are using a cruelty free and vegan option




full ingredient list : aloe vera & water, tetrahexyldecyl ascorbate (vit c 10%), *sunflower oil, *pomegranate oil, *rosehip oil, *acai,*goji, watermelon, cetearyl & sorbitan olivate (from olive), *glycerin, lactobacillus ferment, *licorice root, *skullcap, *hibiscus, kojic acid, hyaluronic acid, vitamin e, *sweet orange, clary sage, *grapefruit, *frankincense, xanthan gum, sodium phytate, citric acid, CONFIDENCE & LOVE
*organic
VEGAN
For face and neck, decolletage massage one-two pumps into freshly cleaned and toned skin.

DAY TIME use - be sure to apply sunscreen after the serum is absorbed.

1) cleanse & tone
2) apply Solstice
3) apply your daily sunscreen

NIGHT TIME use - can be layered with your favorite moisturizers or serums.

1) cleanse & tone
2) apply Solstice
3) apply additional serum or moisturizer




Each product offering is formulated & made by us, at our in-house Beauty Lab, in small batches. Due to the nature of raw plant materials, there may be some variation from batch to batch but our formula ratios remain the same.

*These statements have not been evaluated by the FDA. This product does not intend to treat, diagnose, cure, or prevent any disease. If you're pregnant, breastfeeding, or on any medications, please consult with a qualified health professional before beginning any new herbal products.
Love Note
Awaken & Strengthen your Radiance.