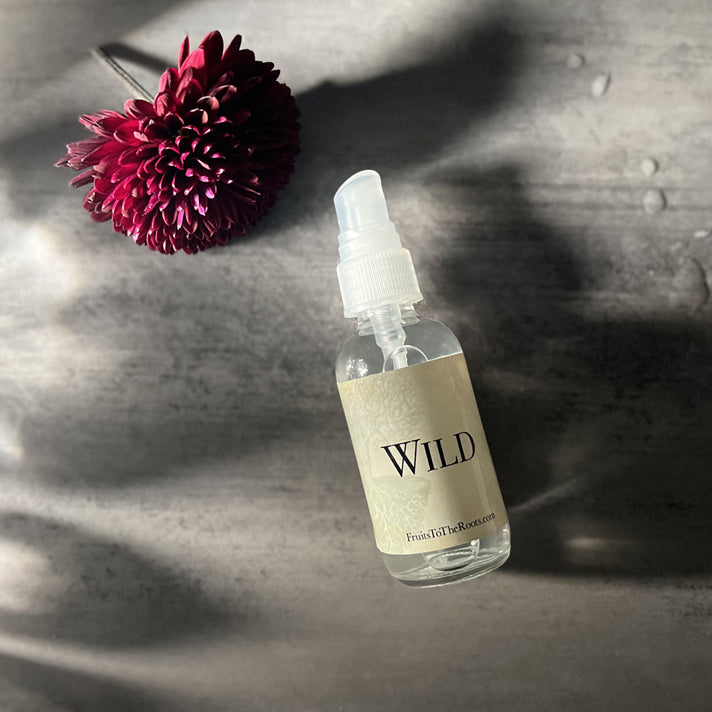 WILD | AUTUMNAL, hydrosol
most skin types, graceful aging, and combination
autumnal breeze, barberries, and zinnias
Experience exotic & tart fruits, with the hint of the first cool autumn breeze rustling through the trees, and the warmth of a nourishing herbaceous brew.
 
Aromatic Profile :
tart ripe fruit, green botanicals, and light stimulating mints fill this bouquet
This hydrosol blend will invite nourishment, circulation, vibrance and joy- helps to restore strength for the skin over the Autumn months & EMPOWER you with joyful relaxation. Many of these botanicals have been known to soften wrinkles & calm inflammation.

'Fall' in love - I dare you to enjoy it throughout the year!
Cultivated with wild crafted and organically grown botanicals & fruits amongst the birds, trees and mountains. This special distillation was embedded with quartz crystals to help encourage strength as these plants vaporize and re-constitute becoming something NEW.
2oz, glass bottle 
Botanical Allies

barberries & kousa 'cherries', & sumac berries, (high in vitamin c) - barberries alone contain more than 200% daily dose of vitamin C, and berberine (an antioxidant) making this the perfect skin quencher, and adding qualities that help strengthen and improve the skin's ability to produce new skin cells, as well as help prevent skin damage from stressful free radicals, and prevent breakouts!

zinnia flowers - not a strongly aromatic flower, however it is super toning for the skin, calming redness, blemishes, irritation & improving the skin's ability to release toxins

wild mugwort - the strongest aroma in our hydrosol, it is calming for the mind, soothing for dermal irritations, reduces inflammation & improves overall moisture, skin's 'youthfulness' and healing abilities


proprietary blend of : wild mugwort, kousa dogwood 'cherries', wild barberries, sumac berries, zinnias, mint (piperita, bergamot, hummingbird mints), monarda, french marigold, red clover, echinacea, yarrow, woodland phlox, aciatic day lily, self heal, with organic glycerin, lactobacillus ferment & quartz gemstone extract
Use daily as you would a facial toner, or spritz skin when you want a touch of comfort and hydration. Can also be used to help 'set' your makeup.
Go Deeper...
Planet : Saturn
Love Note
Each year when the Earth begins to slow, the trees begin to sleep and the the seasons shift, your Unique Being is being invited to shed old layers and open up pathways of nourishment. Seek to find that wisdom inside & out by enjoying this Autumnal offering.

Created seasonally from our autumn garden and a bit of help from local MD farms, when needed.