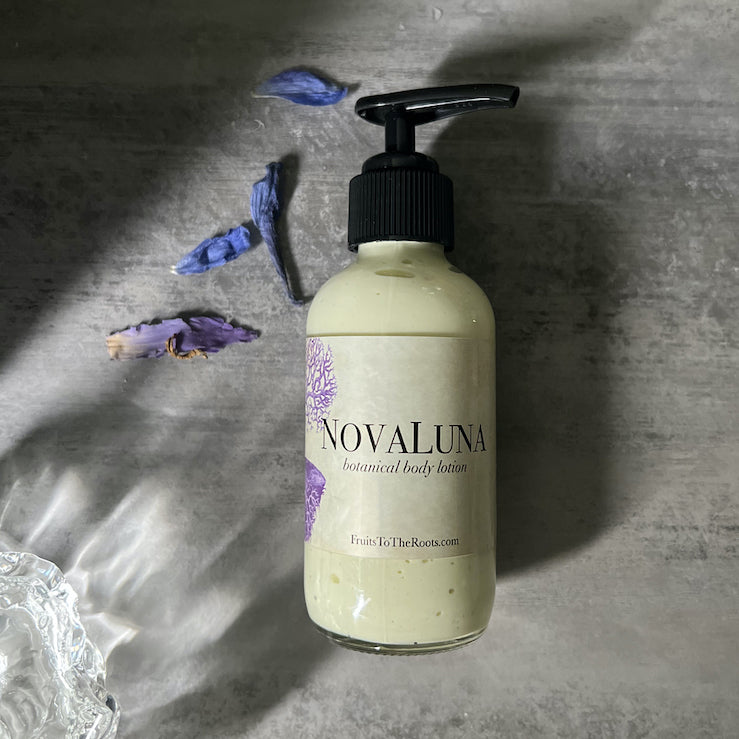 hemp oil, gotu kola, and yerba santa
Just as the new moon your light needs time to rest and revive its joyous vibrance. This mildly aromatic body lotion is deeply nourishing with a creamy consistency that soaks in quickly and creates silken feeling skin in minutes.
 

3.85 oz, glass bottle
Yerba Santa & Marshmallow Root - to improve hydration and moisture, cool irritation and impart voluptuous youthful glow

Chamomile - flower extract to help soothe stress, alleviate tension & inflammatory conditions

Gotu Kola - to stimulate cell renewal, help break up scar tissue and improve the skin's ability to protect itself from free radicals

Hempseed, Camellia & Apricot Oils - gentle enough for sensitive skin types, with deep soothing for skin irritation & damaged skin, strengthening fatty acids & vitamins to reduce redness, and lock in moisture, while also helping to brighten and tone the skin


full ingredients list : FTR wild hydrosol (distilled seasonally), aloe vera, *apricot oil, *hempseed oil, *camellia oil, cetearyl olivate & sorbitan olivate (from olive), *green tea, *chamomile, *glycerine, lactobacillus ferment, *shea butter, *yerba santa, *marshmallow root, *gotu kola, *saffron, hyaluronic acid, aqua, gemstone extracts (amethyst, ruby & quartz), vitamin e, msm, xanthan gum, STAR-SHINE & LOVE
with essential oil blend : rose geranium, blue cypress, wild orange, cocoa absolute and fragonia

*organic


Each product offering is formulated & made by us, at our in-house Beauty Lab, in small batches. Due to the nature of raw plant materials, there may be some variation from batch to batch but our formula ratios remain the same.

*These statements have not been evaluated by the FDA. This product does not intend to treat, diagnose, cure, or prevent any disease. If you're pregnant, breastfeeding, or on any medications, please consult with a qualified health professional before beginning any new herbal products.
Use daily on clean damp skin, for best results. Gently massage into clean skin to help soothe and lessen dryness.
Go Deeper...
Planet : MOON
Love Note
Self love & self reflection

This body lotion, has been in the works for what seems forever. It has undergone a number of ingredient trials and even several temp. names, including Lumos. With numerous testers (all human and willing), thank you all for your feedback along the way!

Nova Luna, meaning "new moon" in latin seemed the perfect fit for this full body lotion.
What continued to communicate to me, during its 4 year formulation time- was its desire to evolve and grow with the seasons. What wasn't clear until very recently was that I had already developed the most authentic way of introducing this concept to our line. While the 'core ingredients' will always stay the same, for the time being, each release will benefit from our unique in-house WILD hydrosols, to bring balance and a touch of our garden to your skin care rituals with each new season. By mirroring nature with the addition of these singular hydrosol blends, we aim to honor your own body's skin patterns shift, GROWING stronger and restoring hydrated luminescence.


I am so excited for you to try out this work of art!

xo,

Lauren