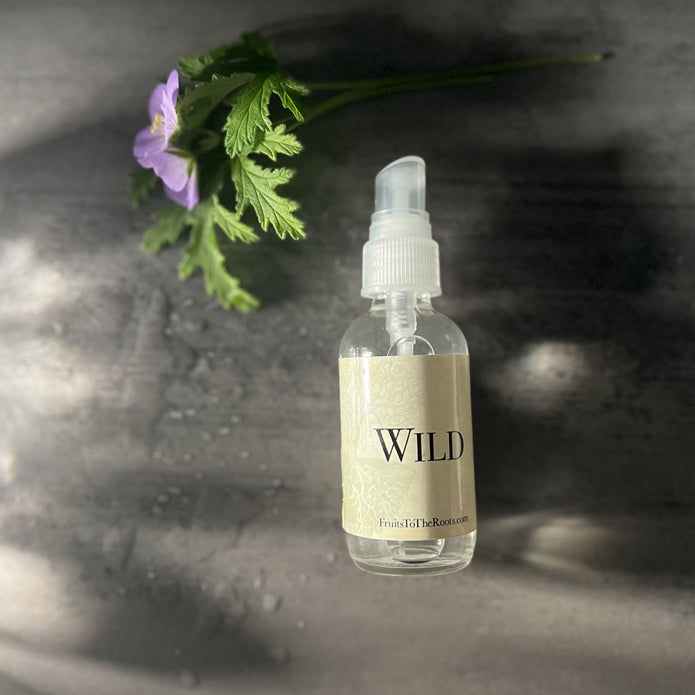 summer rain, yarrow, and lavender
Lovingly gathered and distilled summer solstice rain water, botanicals from our garden such as lavender, lily blossoms, mugwort, yarrow, beebalm, helichrysum, calamus, mugwort and a variety of mints. In addition we have a few plants from our local friends at Fox Haven Farms, MD - blue vervain, echinacea, and peppermint.
Imagine the birds murmuring through the sky, the warmth of the Sun shining through the leaves of the trees, caressing and indulging every flower to burst open to reveal their full splendorous nectar!   
This sensual combo of WILD garden grown flowers and leaves will gift your skin hydration, helping soothe skin redness, improve healing time & the brimming antioxidants will boost the skin's immunity with soft kisses daily!
DISTILLED, amongst the birds, trees and mountains


Aromatic Profile : sweet grass, cool mints , fresh lavender, & a hint of warm SUNNY vitality
 
2oz, glass bottle
Botanicals

skullcap - known for its anti-inflammatory, antifungal, antibacterial properties, and ability to reduce oil on the hair and skin, new studies are even showing skullcap may help accelerate healing from UV light exposure!

yarrow - a fantastic warming herb beneficial for circulation, improved skin health and healing.

lavender - this calming flower has wonderful soothing and anti-inflammatory gifts making it wondrous for both sensitive and blemish-prone types.

full ingredients list : Wild Summer Garden | lavender flowers, skullcap flower & leaf, monarda flower & leaf, red, yellow & white yarrow flower with leaf, mugwort flower & leaf, helichrysum leaf, calamus, blue vervain, variety of mints including peppermint, catnip and more, with lactobacillus ferment, glycerin & quartz crystal essence

*This special distillation was embedded with quartz crystals to help encourage strength as these plants vaporize and re-constitute becoming something NEW.
Use daily as you would a facial toner, or spritz skin when you want a touch of comfort and hydration. Can also be used to help 'set' your makeup.


Each product offering is formulated & made by us, at our in-house Beauty Lab, in small batches. Due to the nature of raw plant materials, there may be some variation from batch to batch but our formula ratios remain the same.

*These statements have not been evaluated by the FDA. This product does not intend to treat, diagnose, cure, or prevent any disease. If you're pregnant, breastfeeding, or on any medications, please consult with a qualified health professional before beginning any new herbal products.
Love Note
Imagine yourself surrounded by lush colorful flowers, succulent & bursting to share their grown strength with you.

Created seasonally from our summer garden and a bit of help from local MD farms, when needed.