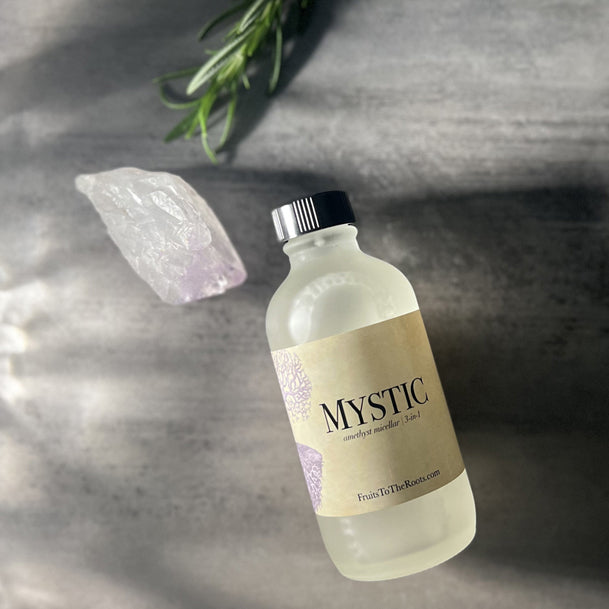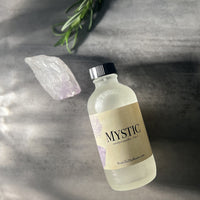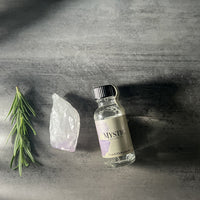 most skin types and on-the-go cleansing & makeup touch-up
peppermint, ginkgo, and colloidal silver
Some days we need a quick beauty ritual moment. Mystic micellar water is just the thing!

This product is created to give you space to tune in, reduce your energy output and yet, provide an ALL-IN-ONE skin care ritual for those busy moments.
ALL-IN-ONE : cleanser, toner, moisturizer
is GREAT for those moments when woke up ready to seize the day, but slept through an alarm, or even freshen up post workout. Mystic 3-in-One, also makes for a great "alt- skincare" practice for those of you that know they deserve the best, but could care less about spending a bunch of time on their skin! Also a wonderful offering for all the active pre-teens in the world!
Choose between
4oz, glass bottle | full size
1oz, glass bottle | travel
Botanicals

Peppermint & Rosemary Hydrosols - to help cool, restore circulation, letting your spirit find ease & empower rejuvenation


Rooted in Science

Cocamidopropyl Betaine - derived directly from COCONUT
In order to give this a 'cleansing' effect we have added the smallest amount of this ECOCERT approved mild surfactant. A surfactant acts as a very mild cleansing agent, while being mild enough to not irritate the skin. This particular surfactant is made from Coconuts- giving it a lovely softening feel. Some formulators will avoid surfactants as they require ph adjustments. We have appropriately adjusted MYSTIC to have a final product PH of 5.5 to keep your skin happy and healthy.

Colloidal Silver - one of our super star ingredients! The use of silver as a medicine and restorative elixir can be traced back hundreds of years. Silver as a 'medicine' has been used to help cool many forms of dermatitis such as psoriasis, eczema, and rosacea. This powerful ingredient will help prevent acne and inflammation, resulting in calm & clean skin.

Amethyst - YES, this is a literal extract of Amethyst! According to the professionals - "Amethyst's purple color is attributed to its concentration of manganese, which has been shown to be helpful with synthesizing protein, as well as mineral transportation and absorption. The powerful antioxidant enzymes are capable of reducing inflammation and preventing other free radical damage that contributes to oxidative stress in the body." As a result, this may help provide superior protective and anti-aging benefits. Throughout history Amethyst has served as a talisman for protection, mysticism, and a stone of royalty. We just had to include it in our Micellar water, to help you feel nourished and empowered with even a 'simple' skincare ritual!


Each product offering is formulated & made by us, at our in-house Beauty Lab, in small batches. Due to the nature of raw plant materials, there may be some variation from batch to batch but our formula ratios remain the same.

*These statements have not been evaluated by the FDA. This product does not intend to treat, diagnose, cure, or prevent any disease. If you're pregnant, breastfeeding, or on any medications, please consult with a qualified health professional before beginning any new herbal products.
Cleansing & Toning
Apply to a soft cloth or cotton round - Gently smooth over face to remove impurities, tone & hydrate skin. If you so desire, repeat cleansing.

Makeup 'clean-up'
Apply to a cotton swab and clean up the edges of your eye liner or clear away mascara splashes from the skin

This does contain a slight cooling 'tingle' from the peppermint, so avoid getting product directly into the eyes.
Go Deeper...
Planet : Mercury
Love Note
Breathe deeply, you hold all the answers you seek.