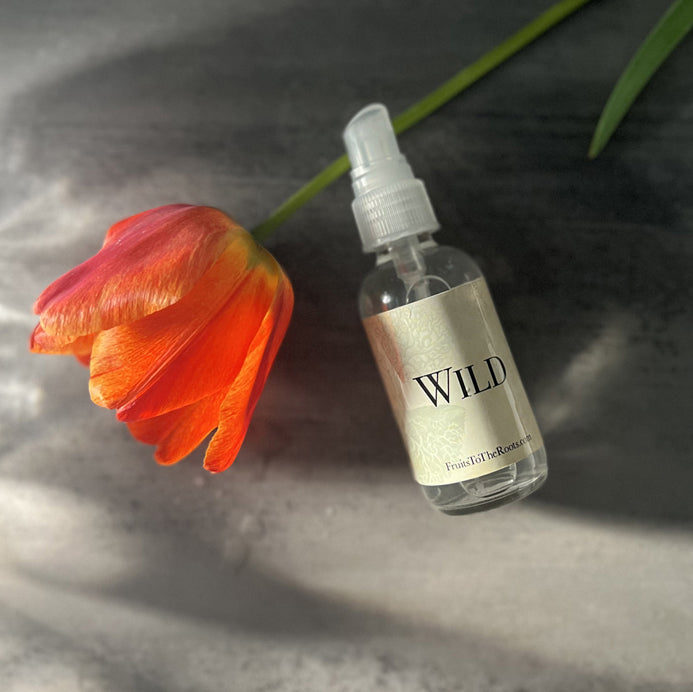 morning dew, lichen, and forsythia
Transform your unique being with our Spring Hydrosol! 
With a depth of early spring flowers willow & forsythia, and dewy moon-soaked lichens, calamus grasses & magnolia blossoms, this wild hydrosol will ignite your senses and spirit.
Discover this Spring "awakening" formula, featuring sweet aromatics, spiced greens and an indulgent earthy longing, with gemstones amethyst & ruby, helping to balance your skin as you embark on a journey of energetic rebirth.


available in a 2oz, glass bottle
WILD | SPRING, hydrosol is a small-batch, limited edition product. Distilled at the budding of the spring full moon and intentionally charged, providing a special and unique year-to-year FTTR "spring garden" experience. Limited quantities available.
Distilled March 2023 
proprietary blend of : fresh willow, grand magnolia, forsythia, grape hyacinth, purple "dead" nettles, and garden dried lavender, lichen, and calamus, with lactobacillus ferment, organic glycerin, amethyst & ruby gemstone extracts
Use daily as you would a facial toner, or spritz skin when you want a touch of comfort and hydration. Can also be used to help 'set' your makeup.

Each product offering is formulated & made by us, at our in-house Beauty Lab, in small batches. Due to the nature of raw plant materials, there may be some variation from batch to batch but our formula ratios remain the same.

*These statements have not been evaluated by the FDA. This product does not intend to treat, diagnose, cure, or prevent any disease. If you're pregnant, breastfeeding, or on any medications, please consult with a qualified health professional before beginning any new herbal products.
Go Deeper...
Planet : Moon
Love Note
Imagine the first buds of growth pushing up through the warming ground, the birds flittering, chirping away as you wander... fingertips trailing over dew dropped flowers you hear the call of the wind as it drapes you in springtime.


Created seasonally from our spring garden and a bit of help from local MD farms, when needed.