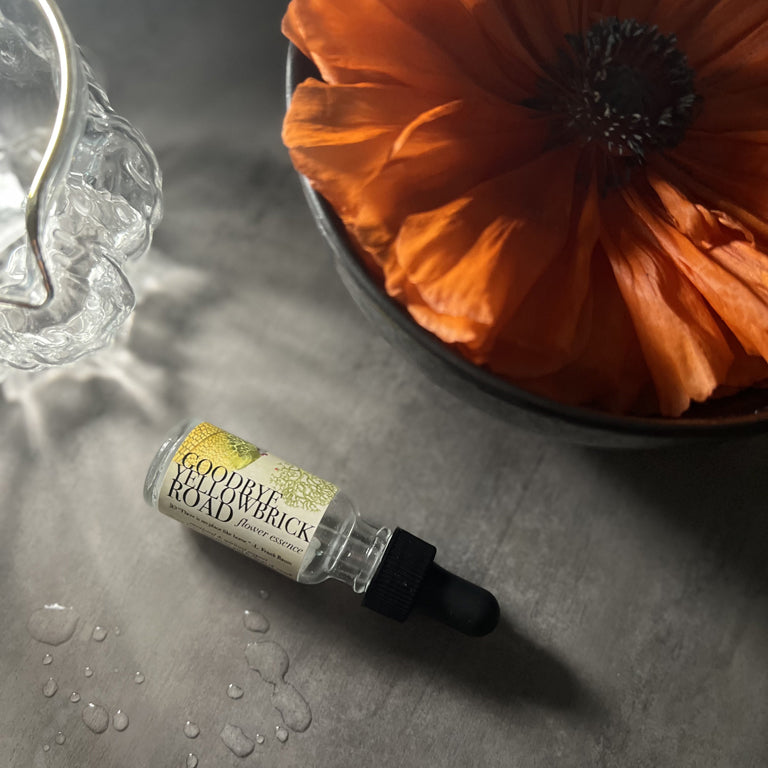 Sometimes in order to find oneself, we leave home searching for grandeur, glitz, fame, fortune... only to find that we have always had within us the power to feel completely ourselves and at ease in that wonder of BEING ENTIRELY FULL all along. 


Release from limitations and feelings of 'need', inspire empowered self realization, seek knowing abundance from within.
RUBY gemstone in every bottle (ethically sourced) 
0.5oz | glass bottle with dropper
'Oriental' Poppy blossom - stabilizing the fire and fueling self discovery Willow blossom - allowing flexibility & ease in navigating all pathways Narcissus blossom - for SUNlight to guid the way Agave (tequila) Spirits - for celebration and longevity Ruby in the bottle is a LIMITED RELEASE once they are gone, they are gone! Nested within each bottle you will find an ethically sourced clear 'cut' 5mm RUBY gemstone. Make sure to save it! Or have it turned into something special when your elixir has served its purpose. full ingredient list : essence of papaver rhoeas, salix x matsudana x alba, narcissus, spring water and less than 20% ABV (agave-tequila) VEGAN Each product offering is formulated & made by us, at our in-house Beauty Lab, in small batches. Due to the nature of raw plant materials, there may be some variation from batch to batch but our formula ratios remain the same. *These statements have not been evaluated by the FDA. This product does not intend to treat, diagnose, cure, or prevent any disease. If you're pregnant, breastfeeding, or on any medications, please consult with a qualified health professional before beginning any new herbal products.
Go Deeper...
Planet : Jupiter
Love Note
Specially selected RUBY gemstone in every bottle (ethically sourced)

This elixir is a blend inspired by Lauren's love for all things OZ, as well as the song by one of her all time favorite artists, "Goodbye Yellowbrick Road" by Elton John & Bernie Taupin.