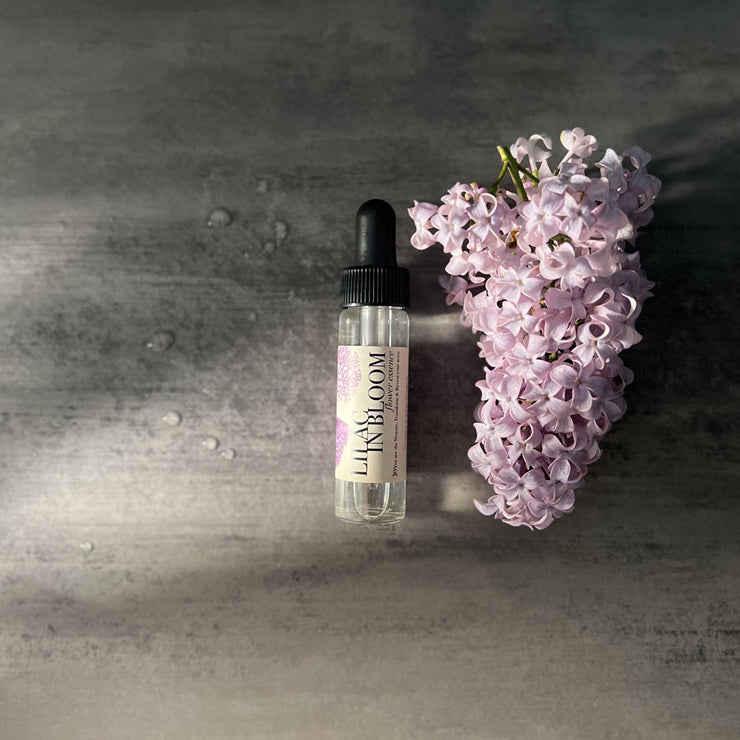 Inspiring awareness in the present moment, evoking remembrance of the past without judgement or sadness, allowing positive fluidity to inspire your future."

Crafted during the days following the first full moon of Spring this LILAC in Bloom FLOWER MAGICK is helpful for reviving a tired soul. We worked to energetically infuse this flower essence during a spring storm, integrating the elemental wind- rain & lightning. The idea of working with these elementals, is to invoke a bit of disruption to your normal thought patterns and invite shift in your psyche. It is during turbulent moments, where a spark for freedom from routine, helps one move away from years of bad habits, and inspires big shifts. Find yourself at the eye of the storm.
0.5oz | 14.7ml - about 400 drops | glass bottle
essence of syringa vulgaris (lilac), contains alcohol (less than 20% ABV) VEGAN Each product offering is formulated & made by us, at our in-house Beauty Lab, in small batches. Due to the nature of raw plant materials, there may be some variation from batch to batch but our formula ratios remain the same. *These statements have not been evaluated by the FDA. This product does not intend to treat, diagnose, cure, or prevent any disease. If you're pregnant, breastfeeding, or on any medications, please consult with a qualified health professional before beginning any new herbal products.
enjoy 7 drops sublingually or in tea as your intuition suggests
Go Deeper...
Planet : Jupiter & Earth
Love Note
"You are the Weaver, Transform & Reveal your story."