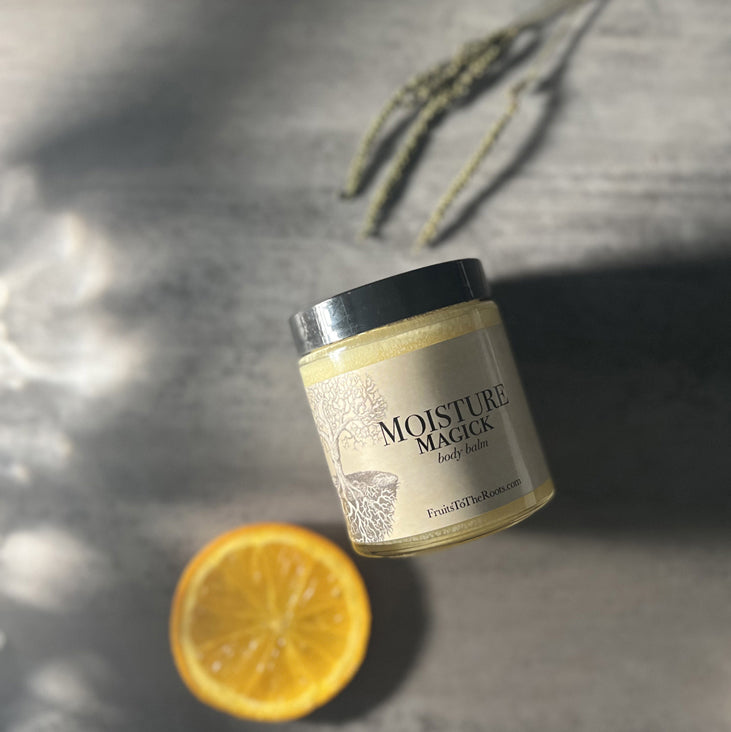 Moisture Magick, body balm
most skin types, sensitive, and delicate
chamomile, marshmallow, and plantain
A decadent all over body moisture balm!
Crafted with the most soothing and balancing extracts and oils... this is mild enough for the entire family.


beneficial for : promoting moisture & preventing raw skin
relieves skin irritation & inflammation
reducing & healing scarring
preparing for & healing from pregnancy
with anti-fungal / anti-bacterial botanicals
calming baby bums, rashes, helping improve restfulness
3.95oz, glass jar
full ingredient list : *jojoba oil, *coconut oil, *shea butter, *cocoa butter, *rosehip oil, *beeswax, *chamomile, *mandarin, *lavender, *marshmallow root, *calendula, ~plantain leaf & flower, MAGICK & LOVE
*organic

This is a first in our official family friendly offerings, but as we maintain all bodies are different, please stop use immediately should you or your little one have any negative reaction and seek medical advice as soon as possible.

Each product offering is formulated & made by us, at our in-house Beauty Lab, in small batches. Due to the nature of raw plant materials, there may be some variation from batch to batch but our formula ratios remain the same.

*These statements have not been evaluated by the FDA. This product does not intend to treat, diagnose, cure, or prevent any disease. If you're pregnant, breastfeeding, or on any medications, please consult with a qualified health professional before beginning any new herbal products.
Recommended for daily use. For best use-massage a small amount into damp,
clean skin.


Go Deeper...
Planet : Earth
Love Note
Find soothing comfort & nourishment.