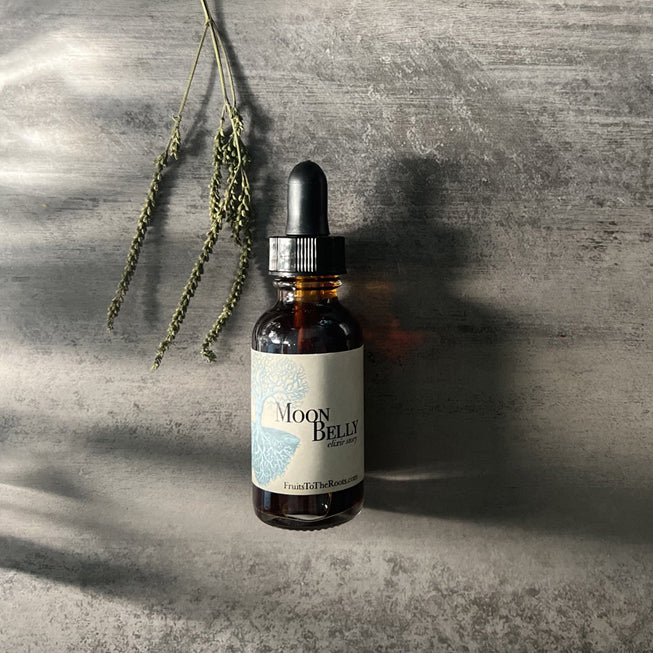 This elixir is a wonderful helper for digestion, reducing inflammation, and encouraging immune system communication. We also love this as a transitional elixir to encourage movement both energetically and physically.
1oz | 29.57ml - about 800 drops | glass bottle 
contains essence & plant body of : *chicory root, *jasmine flowers, *olive leaf, vervain, *blue bachelor button flowers, *peppermint leaf, *birch bark, *calendula, contains alcohol (less than 20% ABV) *organic VEGAN Calendula grown in Topanga, CA. Each product offering is formulated & made by us, at our in-house Beauty Lab, in small batches. Due to the nature of raw plant materials, there may be some variation from batch to batch but our formula ratios remain the same. *These statements have not been evaluated by the FDA. This product does not intend to treat, diagnose, cure, or prevent any disease. If you're pregnant, breastfeeding, or on any medications, please consult with a qualified health professional before beginning any new herbal products.
SHAKE prior to use & set INTENTION
Enjoy 7-10 drops under tongue or in tea as your intuition suggests.
Go Deeper...
Planet : Moon

Love Note
Learn to revive, ripen, release & soften.


It was a cold moon. The kind of moon that makes you crave soup. A good book and a fire to read beside. It was a moon that shined further through the windows because the trees were all asleep til spring. It was the kind of moon that you almost could have reached out for and almost, just almost caressed. It was the kind of moon to breathe life into every whisper & every thought.