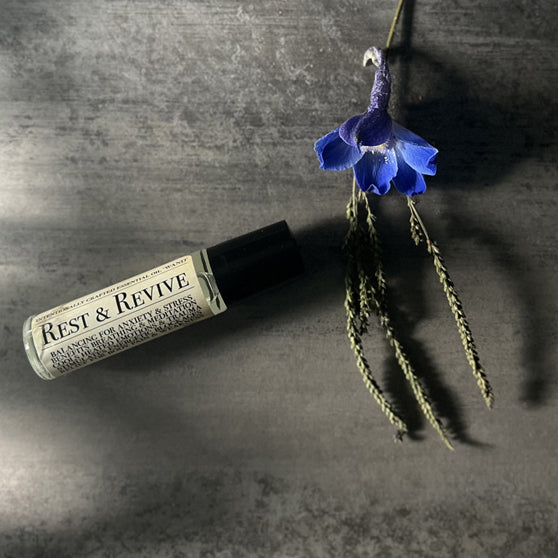 lavender, black pepper, and mint
This gentle blend of essential oils has some very unique qualities making this the perfect on the go helper and soother.
This wand is excellent for on the go meditative moments, to help with improving mood and overall mindset.


 benefitting the bodies ability to :
cool heated emotions
balance anxiety & stress
stimulate energetic blockages helping to relieve the body
you may find it soothes tension headaches and third eye fog
heal scrapes, mild kitchen burns, cuts and more (keep a different one on hand for this practice)
10ml, glass bottle with roller

full ingredients list : sunflower oil, *avocado oil, *bergamot mint, *eucalyptus, *melissa, *black pepper, niaouli, *myrrh, *lavender and *menthol crystals *organic Each product offering is formulated & made by us, at our in-house Beauty Lab, in small batches. Due to the nature of raw plant materials, there may be some variation from batch to batch but our formula ratios remain the same. *These statements have not been evaluated by the FDA. This product does not intend to treat, diagnose, cure, or prevent any disease. If you're pregnant, breastfeeding, or on any medications, please consult with a qualified health professional before beginning any new herbal products.
Roll onto pressure points, third eye, scraped skin when feeling emotionally challenged & stressed or as your intuition suggests.

You may find it helps heal scrapes, mild kitchen burns, cuts and more (keep a different one on hand for this practice and use within 6 months of purchase)
Go Deeper...
Planet : Mercury
Love Note
"The wand may choose the wizard", but everyone needs a little encouragement to listen to their intuition. What does your spirit say you need?

XO,
L