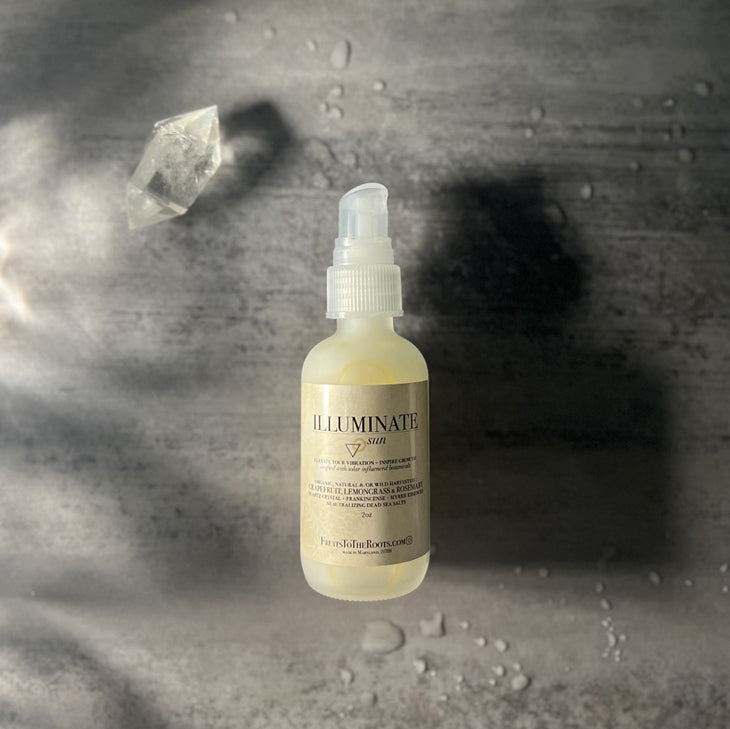 Inspires motivation, prosperity and rejuvenation.
Warm citrusy green notes for bringing light and insight to your presence.

We love this mist to help maintain energetic focus and awareness.

Aroma profile : citrusy & green
2oz, glass bottle

Proprietary Blend of Pink Grapefruit, Lemongrass, Rosemary, Frankincense, Myrrh, Quartz Crystal Essence & neutralizing Dead Seas Salts VEGAN Each product offering is formulated & made by us, at our in-house Beauty Lab, in small batches. Due to the nature of raw plant materials, there may be some variation from batch to batch but our formula ratios remain the same. *These statements have not been evaluated by the FDA. This product does not intend to treat, diagnose, cure, or prevent any disease. If you're pregnant, breastfeeding, or on any medications, please consult with a qualified health professional before beginning any new herbal products.
shake gently
clear your mind
set your intention... MIST

helps to promotes overall balance & benefit a direct energy shift in your environment
Love Note
Specially selected small gemstone or quartz point in each energy mist.