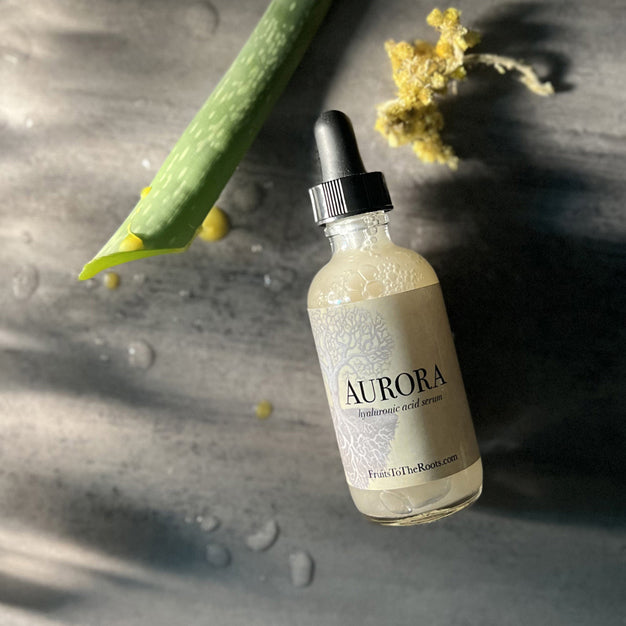 Aurora, hyaluronic acid serum
normal, sensitive, oily, and graceful aging
hyaluronic acid, prickly pear, and neroli
This silky-soft serum is created with hydrating ingredients to improve the skin's ability to maintain moisture, as well as botanicals that impart nutrient rich vitamins, minerals and antioxidants for improved skin health.

This elegant aloe-based serum is cooling and great on its own, or can be layered into your current ritual as an added beneficial step to activate your oil based serum or moisturizer. 


2 oz, glass bottle
Botanicals

Neroli, this delicate floral oil is made from hand picked citrus blossoms. Neroli is extremely calming for the mind, helping with anxiety and chronic stress. This enchanting oil also benefits cellular regeneration, helps prevent stretch marks, broken capillaries and scarring.

Matcha Green Tea, Prickly Pear & Aloe Vera, these plant extracts benefit the skin by reducing 'puffiness', helping to heal from sun exposure and reduce inflammation.


Rooted in Science

Hyaluronic Acid - is a compound that is found naturally within the skin- keeping it moist and looking youthfully plump. Just like many other naturally occurring compounds, the amount naturally found within our skin's cells decreases with age. With the magick of science there is now a way to keep boosting that 'humectant' moisture drawing action, of H.A. that helps the skin maintain its youthful look and feel. We are using a cruelty free and vegan option. You're welcome, and thanks Science!


full ingredients list : aloe vera, *glycerin, *camellia sinensis, prickly pear, *green tea, *marshmallow root, *calendula, *skullcap, *horsetail, *gotu kola, lactobacillus ferment, hyaluronic acid, *immortelle, *neroli, *amyris, *frankincense, sodium phytate, xanthan gum, mica (natural pigment), potassium sorbate & citric acid
*organic
VEGAN

Each product offering is formulated & made by us, at our in-house Beauty Lab, in small batches. Due to the nature of raw plant materials, there may be some variation from batch to batch but our formula ratios remain the same.

*These statements have not been evaluated by the FDA. This product does not intend to treat, diagnose, cure, or prevent any disease. If you're pregnant, breastfeeding, or on any medications, please consult with a qualified health professional before beginning any new herbal products.
for Skin (face & body) :

Use up to one full dropper for face and neck, decolletage, thighs, stomach, or wherever you may desire support. Apply liberally with love.

for Hair :

This is a wonderful HAIR ELIXIR as well to help tame down frizz and keep hair feeling silky, lush and smooth.

Apply one or two droppers to palms of hands and beginning at the back of your head work into hair. You can also use this by working down little frizzies around the hairline, face etc. Makes a great beard and mustache softener as well.
Go Deeper...
Planet : Sun & Moon
Feel into the awakening energy of your Unique Beauty.
Love Note
This is a personal favorite in our home. We think it works especially well for sensitive skin. Brian loves it as an after shave, and I adore it as an all over serum, benefitting smooth, hydrated hair follicles and soft skin. From beards to bikini lines, it is an instant staple for us. Enjoy.