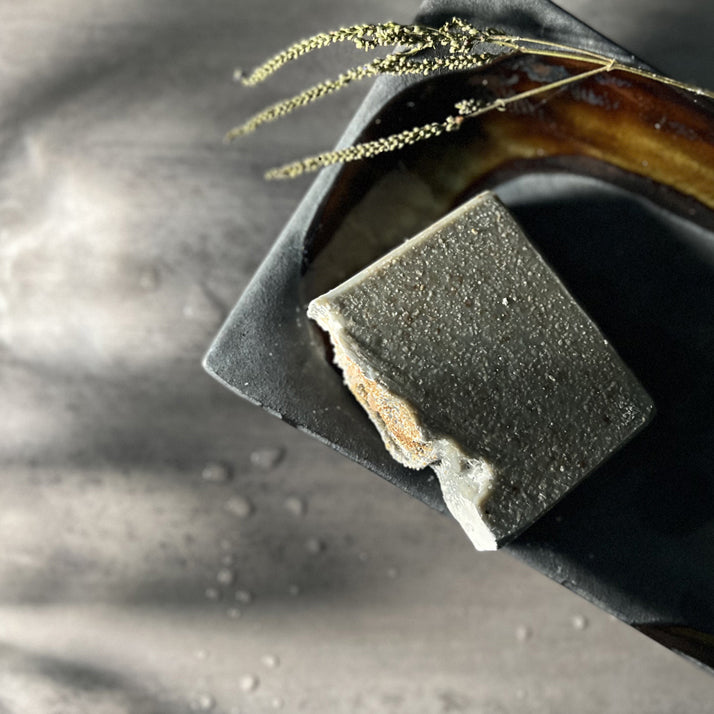 normal, combination, and oily
Dead Sea Salt, Lavender, and Seaweed
Enriched and inspired by the healing capabilities of the sea, we like to think this nutrient rich bar is almost legendary. Enjoy the calming wonder as you soak and soothe...

While we originally formulated these bars for body use, over the years we have come to see benefits for both the face & hair/scalp.
approximately 3.3oz | naked bar
Botanical Allies

Lavender-
for SKIN helps to calm irritated & provide anti-bacterial action
for HAIR/SCALP a cleansing herb that improves the scalps overall balance (helping both overly oily & overly dry types)

Dead Sea salt-
for SKIN, HAIR and SCALP containing many vitamins and minerals that help soften and revitalize overall

DULSE seaweed-
containing omega-3 fatty acids
for SKIN this seaweed helps to protect and improve skin barrier function
for HAIR/SCALP to improve nourishment that encourages new and improved hair growth


full ingredient list : saponified olive & *coconut oils, cold pressed sesame oil, activated charcoal from bamboo, *sea buckthorn, *dulse seaweed, dead sea salts, *lavender, *tea tre, *ho wood & sodium lactate
VEGAN

Each product offering is formulated & made by us, at our in-house Beauty Lab, in small batches. Due to the nature of raw plant materials, there may be some variation from batch to batch but our formula ratios remain the same.

*These statements have not been evaluated by the FDA. This product does not intend to treat, diagnose, cure, or prevent any disease. If you're pregnant, breastfeeding, or on any medications, please consult with a qualified health professional before beginning any new herbal products.
for optimum use & to extend the life of your soap

- store out of direct water
- allow bar to dry completely between uses
- switch between two bars day & night
- use a soap dish with proper drainage


Go Deeper...
Planet : Moon & Venus
Love Note
You and the ocean hold depth that cannot be seen from the surface. Embrace your mythic wonder and dare to adventure into the deep.

This bar is inspired by 'secret' folklore and the love of the sea. Just as the depths of creation contain their own mysteries, this formula contains woven, hidden moments within its making. Always a challenge and transformative in nature. I hope you love it as we do.