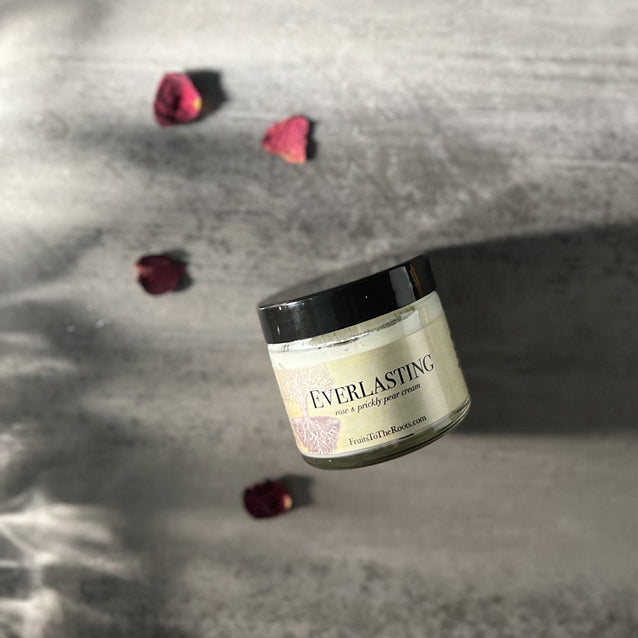 rose, prickly pear, and squalane
PRE ORDERS OPEN for November full moon attuned
Everlasting Cream, with intentions to release from that which no longer serves you and empower your spirit with the strength to begin going inwards and further work on reflection during the upcoming winter months ahead. It is time to nourish from within.


Everlasting is a luxurious face cream designed to promote graceful aging. Made at the the full moon each month, incorporating a unique blend of plant extracts and full moon energies, this absorbent cream helps to hydrate and revive your skin both day and night. For maximum results, pair it with our balancing FTTR toners, hydrosols and nutrient-rich serums. 
Energize your unique being with Everlasting enchantment every night. Dare to take a walk beneath the full moon and unlock the magic from within!
Available in 1.65oz, 1oz, and 0.5oz glass jars.
Botanicals

Prickly Pear- nourishes, regenerates and supports the skin cell renewal

Squalane- our body actually produces a similar oil called squalene naturally. Sadly this hydrating oil is produced less and less with the aging of our bodies, so we've decided to take on a vegan - olive derived squalane, to continue strengthening, balancing and rejuvenation with our incredible cream!

Rose + Frankincense + Holy Basil Oils - this trio is rich in anti-inflammatory, protective, and calming properties making it a decadent wonder for most skin types.

full ingredients list/proprietary formula : proprietary blend of : aloe vera,*rose hydrosol, *jojoba oil, *grapeseed oil, with squalane oil, cetearyl olivate & sorbitan olivate - (from olive), *prickly pear seed oil, *calendula, *gotu kola, *horsetail, *immortelle, *licorice root, lactobacillus ferment, rose absolute, *holy basil, *frankincense, xanthan gum,
tetrasodium glutamate diacetate & potassium sorbate
*organic

Each product offering is formulated & made by us, at our in-house Beauty Lab, in small batches. Due to the nature of raw plant materials, there may be some variation from batch to batch but our formula ratios remain the same.

*These statements have not been evaluated by the FDA. This product does not intend to treat, diagnose, cure, or prevent any disease. If you're pregnant, breastfeeding, or on any medications, please consult with a qualified health professional before beginning any new herbal products.
Apply to fresh clean skin, preferably following your toner.

If you are using serums or eye treatments apply these first allowing a few seconds for them to sink into the skin.
Go Deeper...
Planets : Moon
Love Note
We create this nutrient rich cream only on the full moon. This means each batch is attuned to the moons energy that month, and embraced by the seasonal shifts. It may sound a tad woo-woo to work with nature and lady luna this way, but each month proves the effort worth the extra time and intention making this best selling offering epically exceptional and Unique, just like you.