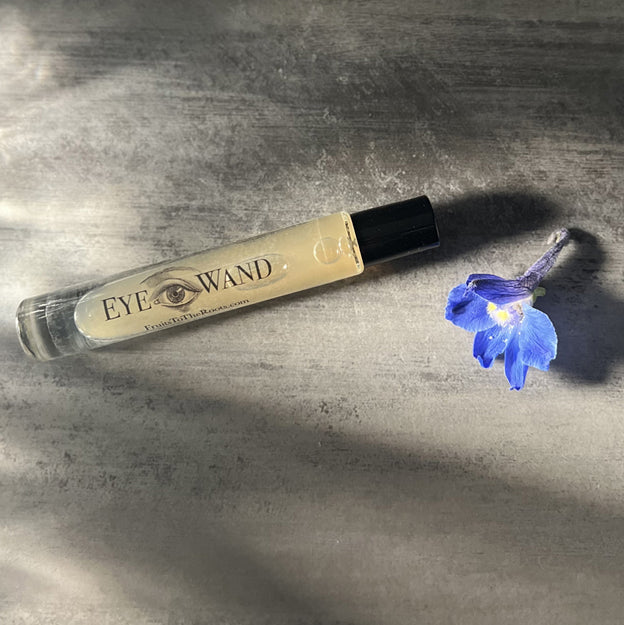 most skin types and graceful aging
Star Ingredient : almond peptides, moringa stem cell extract, and hyaluronic acid
Designed to bring soothing comfort to your unique beauty.

The Eye Wand is formulated with hydrating and youthful ingredients to help you embrace wonder, support sensitivity, reduce inflammation, lighten the appearance of fine lines and ease puffy under-eye skin on a daily basis.
This cooling water based serum is sure to be a morning and evening favorite for most skin types.

10 ml | glass bottle with a cooling metal roller
Botanicals

Sweet Almond Peptides - beloved for skin care rituals, since ancient times for their hydrating ability. We love them as they contain peptides that adhereb to the outer most layer of the skin providing almost instant perceivable skin lifting, and firming benefits!

Clary Sage - In House Distillation from Local Sources
calming for the mind and soothing for the skin this beloved plant friend will keep your inflammation down and your heart on a high note

Moringa Stem Cell Extract - a plant ally rich in cultural Wisdom and a representation of 'LIFE' for so many, this anti- inflammatory herb is cherished for its renewal qualities. Containing numberous age defying and supportive ingredients such as Vitamin C, beta-carotene, B vitamins, iron and calcium!


Rooted in Science

Hyaluronic Acid - is a compound that is found naturally within the skin- keeping it moist and looking youthfully plump. Just like many other naturally occurring compounds, the amount naturally found within our skin's cells decreases with age. With the magick of science there is now a way to keep boosting that 'humectant' moisture drawing action, of H.A. that helps the skin maintain its youthful look and feel. You're welcome, and thanks Science!
*we are using a cruelty free and vegan option

full ingredient list : *clary sage hydrosol, sweet almond peptides, moringa stem cell extract, prickly pear extract, ruby gemstone extract, *bilberry extract, cucumber extract, *glycerin, aqua, lemon peel extract, lactobacillus ferment, *holy basil, blue lotus, and *mimosa, (spagyrics) *camellia sinensis extract, sodium hyaluronate (hyaluronic acid), INTUITION & LOVE
*organic
VEGAN
CONTAINS ALMOND
After applying moisturizers and serums, Simply roll onto clean skin, under and around the eye to add a bit of protective and preventative nurturing to your daily beauty ritual.

Avoid getting the product directly in the eye.





Each product offering is formulated & made by us, at our in-house Beauty Lab, in small batches. Due to the nature of raw plant materials, there may be some variation from batch to batch but our formula ratios remain the same.

*These statements have not been evaluated by the FDA. This product does not intend to treat, diagnose, cure, or prevent any disease. If you're pregnant, breastfeeding, or on any medications, please consult with a qualified health professional before beginning any new herbal products.


Go Deeper...
Planet : MOON
Love Note
You are Magick, holding the wisdom of the Universe within.

Why Spagyrics?

Spagyrics are an ancient form of botanical extraction based on alchemical practices, yet applied to plants. These extremely potent little extracts are a combination of energetic healing / intention and literal plant body, spirit and soul, (plant salts, plant extract, and plant oil) making them a rare and intelligent botanical ingredient to work with. Each process of the individual plant Spagyric, takes weeks, months and sometimes years to perfect. While we are trying to build our own library of these magick filled potions, these particular extractions were made by our trusted teachers on the Oregon gold-coast line.


For face sleepers, like myself- LOL, I suggest morning use.
-L