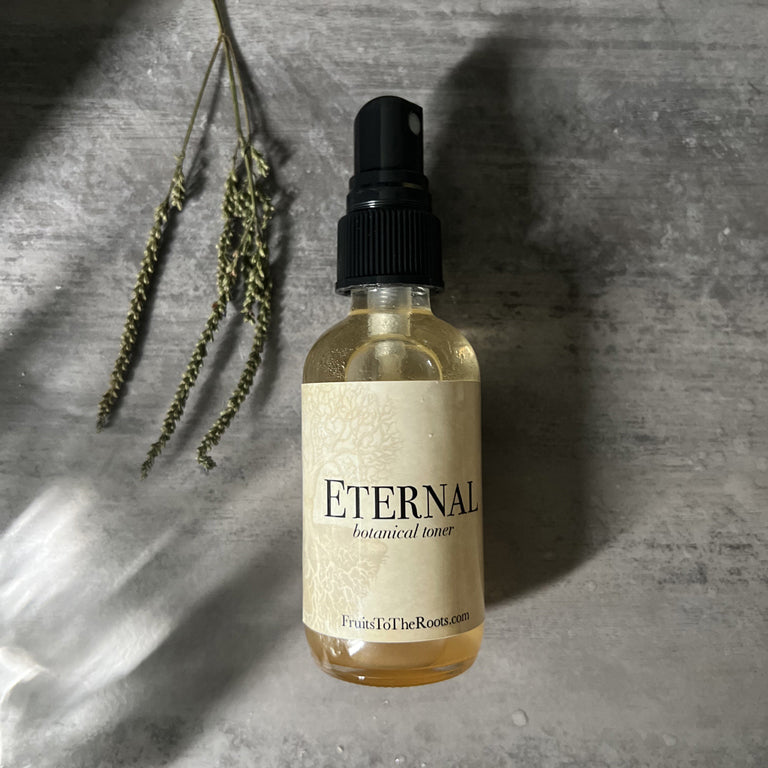 most skin types, graceful aging, dull, and congested
ACV, clary sage, and frankincense
Based on the ancient healing and restorative skin tonic, Queen of Hungary Water, This 'youthful' water is our PERSONAL FAVORITE for eternal beauty. Enchanted with botanicals to empower a rejuvenating spirit.

2oz, glass bottle 
Botanicals

Frankincense- helps to protect skin cells from pre-mature aging, reduces blemishes and pores

Melissa- antibacterial, antiviral, helps to regenerate and boost overall skin & emotional health

Clary Sage- anti inflammatory, anti-microbial, helpful for balancing all body systems

Apple Cider Vinegar extract - helps normalize your body's pH and maintains a healthy alkaline state topically, contains vitamins A, B1, B2, B6, C and E, and contains Alpha Hydroxy Acids which help with dead skin cell removal while illuminating the skin. ACV also keeps negative bacterias from forming pimples due to its anti fungal, anti bacterial and anti viral nature.
We have updated this extract so that the benefits are present, without the vinegar smell!

full ingredient list : *lavender hydrosol, *witch hazel, *apple cider vinegar, *frankincense, clary sage, bergamot (bergaptene-free), *lemon, lactobacillus ferment, *calendula, *melissa, *burdock, *comfrey, *holy basil, *immortelle, *rosemary, *rose, sodium phytate, potassium sorbate, WISDOM & LOVE

*organic
VEGAN

Each product offering is formulated & made by us, at our in-house Beauty Lab, in small batches. Due to the nature of raw plant materials, there may be some variation from batch to batch but our formula ratios remain the same.

*These statements have not been evaluated by the FDA. This product does not intend to treat, diagnose, cure, or prevent any disease. If you're pregnant, breastfeeding, or on any medications, please consult with a qualified health professional before beginning any new herbal products.
Mist generously over clean skin, before and after applying moisturizers or oils, helping to absorb all nutrients and seal in hydration.

This decadent mist can also be used from head-to-toe throughout the day to elevate your mood, brighten your spirit, enhance scalp and hair health.

Repeat once you have applied makeup to help set and maintain a dewy glow.
Go Deeper...
Planet : Venus & Sun
Love Note
Based on the ancient healing and restorative skin tonic called Queen of Hungary Water. Legend says that this queen developed a tonic to embody 'eternal' youth & beauty.