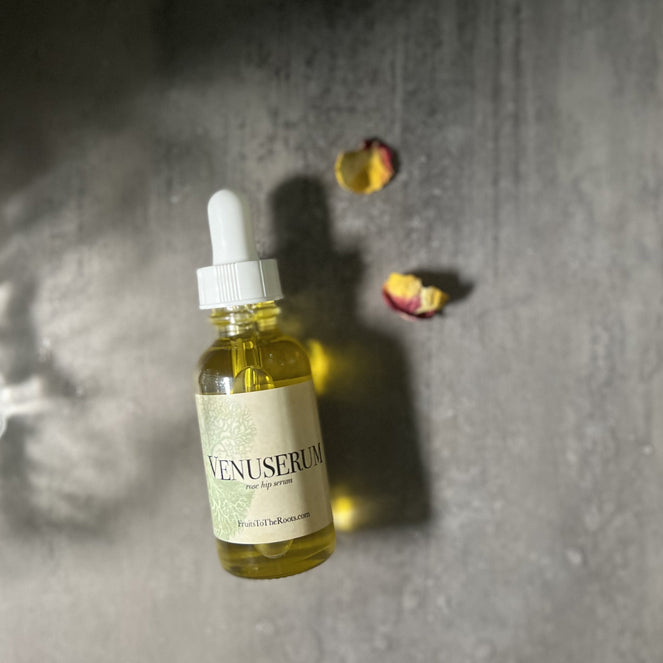 normal, acne, and inflammed
rosehip, burdock, and evening primrose
With botanicals for healing and oils for balancing this gem is intended to help reduce cystic acne, unwanted bacteria, improve the skin's ability to eliminate waste, and relieve itchy or red areas of the skin.

In our opinion this is the ultimate serum for when you know you need support with your skin, but aren't sure what is going on. Also a go-to for balancing blemished skin.

1oz, glass bottle

Botanicals

Rosehip Seed Oil - to give your skin an anti-oxidant boost that will help cellular regeneration as well as healthy skin

Chamomile & Calendula Flowers - to soothe red skin & inflammation and itchy skin brought on by acne or sebum imbalance

Burdock Root & Dandelion Root - to detox the skin and allow impurities to be pulled to the surface, resulting in a more stable and glowing complexion



full ingredient list : *jojoba oil, grapeseed oil, *rosehip oil, *evening primrose oil, *black cumin, *chamomile, *licorice root, *comfrey, *calendula, *burdock root, *melissa, *nettle, *dandelion root, *mugwort, *sweet orange, *lavender, geranium, *ylang ylang, *tea tree, and vit e
*organic ingredient
Use 5-7 drops, or up to 1 full dropper, on clean/ moist skin - one to two times daily, after a toner/hydrosol for best results.

Try a single drop on bug bite, or directly on a blemish as a 'spot treatment' for fast relief.


Each product offering is formulated & made by us, at our in-house Beauty Lab, in small batches. Due to the nature of raw plant materials, there may be some variation from batch to batch but our formula ratios remain the same.

*These statements have not been evaluated by the FDA. This product does not intend to treat, diagnose, cure, or prevent any disease. If you're pregnant, breastfeeding, or on any medications, please consult with a qualified health professional before beginning any new herbal products.
Go Deeper...
Planet : Venus
Love Note
This FTR original is the VERY first face product I ever formulated. It took me 7 years to get it perfected, some of which was even before FTR was ever in the picture. This was MY perfect face serum for a time in my life when I was struggling to feel beautiful in my skin. I was dry, but oily, with cystic acne that always left scars, UNTIL VENUSERUM became a part of my ritual. This is the flagship product that built our brand, and I will never be more grateful to have met each ingredient along the way. I hope she treats you as well as she treats me.

XO,

Lauren