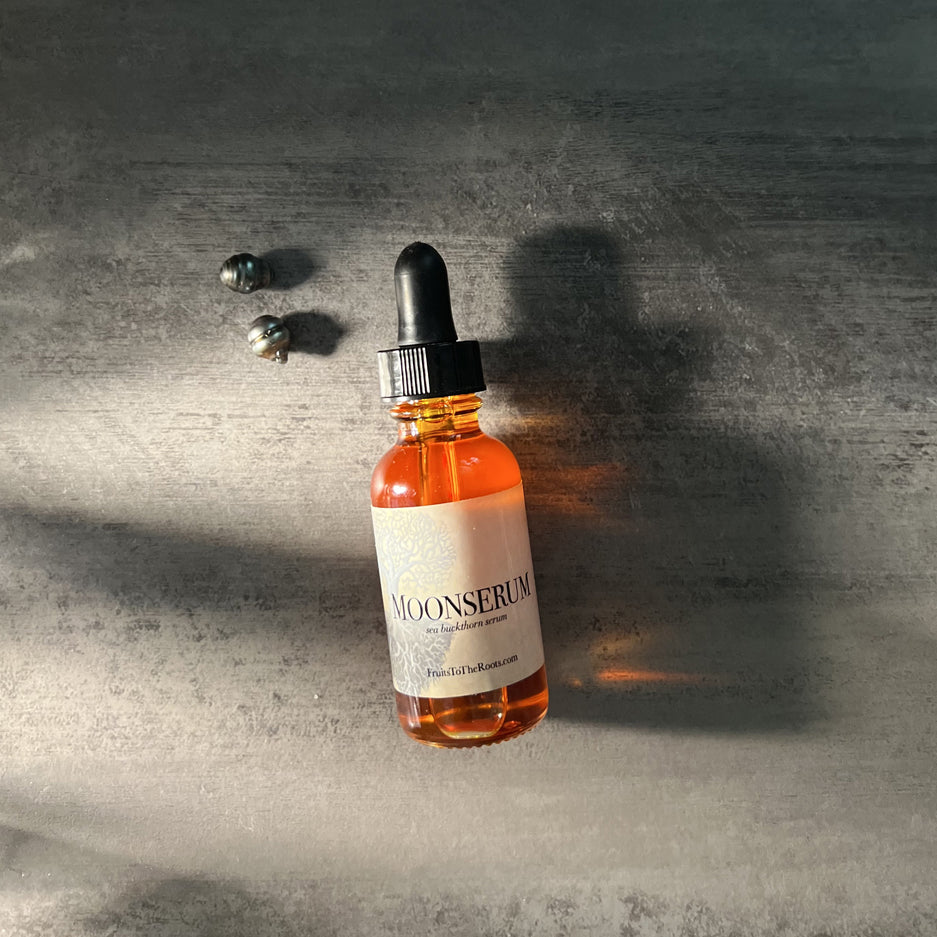 Moonserum, sea buckthorn serum
most skin types, balancing skin pigmentation, and graceful aging
oil of egg spagyric, sea buckthorn oil, and palo santo
This nutrient-rich powerhouse serum is beneficial for nearly any skin type, but especially those who would like to encourage glowing skin and benefit graceful aging.
 
1oz, glass bottle
Botanicals

Sea Buckthorn, a natural powerhouse of Vitamin E improving healing and moisture

Meadowfoam, this treasured oil helps to lock moisture into the skin while allowing all ingredients its paired with to become more bio-available to the deeper layers of the skin

Palo Santo : helps inhibit the elasticity of the skin while reducing signs of aging and encouraging new skin cell production


Rooted in Science

Oil of Egg, this unique oil has a significant ability to benefit accelerated healing and improve the skins ability to protect itself. We are very specific with our sourcing. This spagyric is made specifically for us by our trusted friends and teachers in Oregon with freshly harvested free range eggs on the first full moon after the Spring Equinox -- once a year.



full ingredient list : *jojoba oil, meadowfoam oil, *sea buckthorn oil, carrot root oil, *chrysanthemum, *rose, *mugwort, *lavender, *licorice root, *holy basil, *melissa, *geranium rose, *palo santo, clary sage, *grapefruit, *frankincense, pearl, oil of egg (spagyric), VIBRANCE & LOVE
*organic

Each product offering is formulated & made by us, at our in-house Beauty Lab, in small batches. Due to the nature of raw plant materials, there may be some variation from batch to batch but our formula ratios remain the same.

*These statements have not been evaluated by the FDA. This product does not intend to treat, diagnose, cure, or prevent any disease. If you're pregnant, breastfeeding, or on any medications, please consult with a qualified health professional before beginning any new herbal products.
Using 2-4 drops, or upto 1 full dropper on clean, moist skin after cleansing, one to two times daily for best results
Go Deeper...
Planet : Moon
Love Note
You are exquisite & timeless.

This serum was inspired by the intimacy of a full moon eve, just before day break, when the light catches on the dew, illuminating and embracing natures glow.