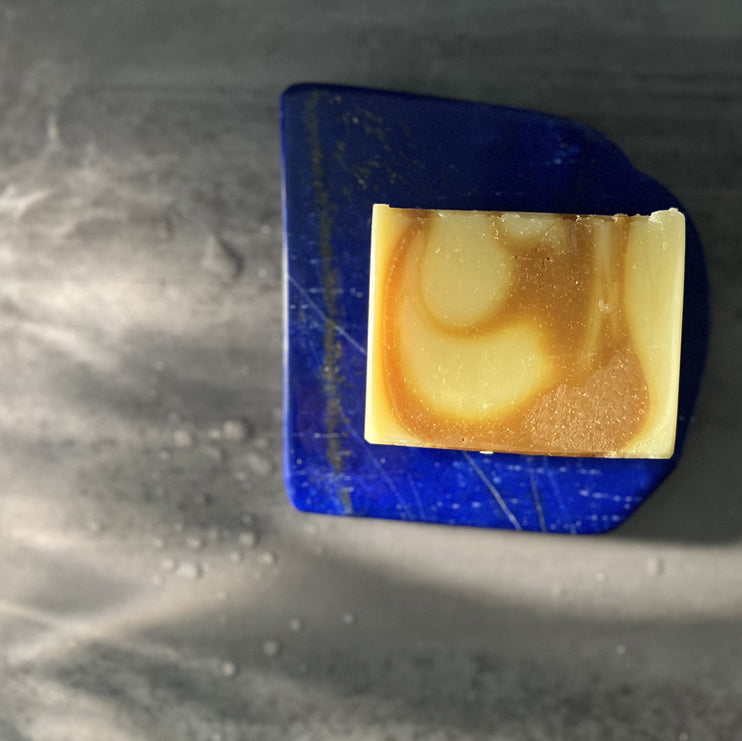 turmeric, pineapple, and cocoa butter
You deserve decadence in all of your bathing practices. This transformative bar is just the thing to bring you golden glow and rich softness.


While we originally formulated these bars for body use, over the years we have come to see benefits for both the face & hair/scalp. 
approximately 3.3 oz | naked bar
Botanicals

Turmeric-
anti-fungal and anti-inflammatory actions
for SKIN reduce inflamed skin and the appearance of breakouts
for HAIR/SCALP reducing irritation such as dander, dryness & itchiness

Pineapple, packed with balancing antioxidants to benefit even SKIN tone and help one to age gracefully this powerhouse fruit also may be helpful at fighting frizzy HAIR

Cocoa Butter-
for SKIN this ingredient is excellent for most skin types as well as beneficial for healing scars from recent breakouts
for HAIR this ingredient is beneficial for helping to maintain healthy oil production and encourage softened hair follicles


full ingredient list : saponified *olive & *coconut oils, *cocoa butter, pineapple extract, *turmeric, *bergamot, *sweet orange and *patchouli
*organic
VEGAN

Each product offering is formulated & made by us, at our in-house Beauty Lab, in small batches. Due to the nature of raw plant materials, there may be some variation from batch to batch but our formula ratios remain the same.

*These statements have not been evaluated by the FDA. This product does not intend to treat, diagnose, cure, or prevent any disease. If you're pregnant, breastfeeding, or on any medications, please consult with a qualified health professional before beginning any new herbal products.
for optimum use & to extend the life of your soap

- store out of direct water
- allow bar to dry completely between uses
- switch between two bars day & night
- use a soap dish with proper drainage
- use caution, turmeric may stain
Love Note
Inspired by the goddess Brigid, of the Tuatha Dé Danann, and her connection to healing and the creative power/destruction of the element fire.