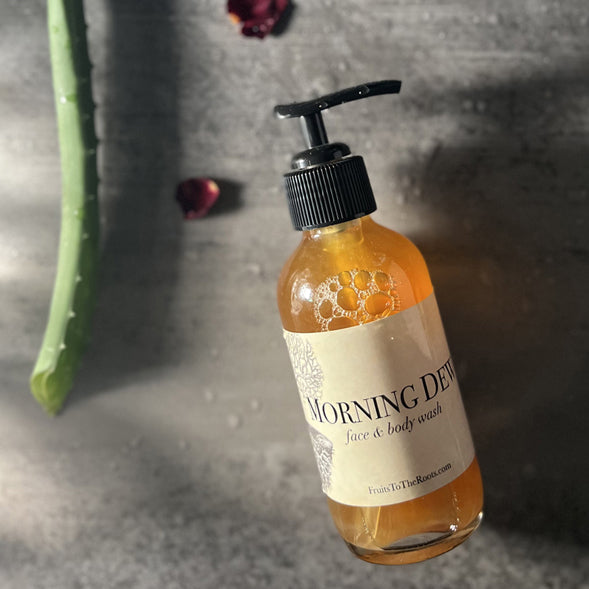 acne prone, oily, and combination
jojoba oil, tea tree, and aloe vera
A foamy cleanser, recommended for daily use and created with varying skin types in mind. This liquid cleanser helps remove dirt and unwanted bacteria, while also stimulating circulation and soothing irritation. Use for that fresh clean feel!


Pairs well with our Blossom toner and Moonserum for an indulgent morning ritual. Beloved by all for it's well balanced blend of essential oils, you can confidently indulge in this foaming cleanser daily.
Designed for both face and body cleansing.

3.95oz | glass bottle 
The best foamy action as of July 2022 with jojoba and skullcap
Botanicals

Rose Water- to help provide softening and toning quality while also helping to prevent eczema, rosacea and irritation

Aloe Vera- providing added moisture and soothing nature this ingredient helps fight aging and speeds skin healing

SUN & EARTH inspired essential oil blend- to help with soothing skin, prevent breakouts, reduce eczema, heal blemishes, and balance skin pigmentation.


updated formula as of July 15th, 2022
full ingredient list : saponified oils (*coconut, *olive and *jojoba), aloe vera, *rose hydrosol, *glycerin, lactobacillus ferment, msm, *horsetail, *gotu kola, *skullcap, patchouli, *lemongrass, geranium, palmarosa, *tea tree, bergamot (bergaptene free), guar gum, rosemary extract, tetrasodium glutamate diacetate, SUNSHINE & LOVE
*organic
VEGAN

FORMULA UPDATE- the same amazing foamy cleanser! PLUS, as of July 15, 2022, this popular cleanser now includes SKULLCAP extract! Skullcap is wonderfully celebrated amongst my fellow formulators and herbalists, for extra antioxidant potency and in the last few years studies have shown it to be capable of helping to accelerate cellular renewal and reduce damage caused by UV light, as well as brighten the skin's overall complexion. We have also shifted the saponified oils to eliminate sunflower and castor oil. The new formula now contains coconut for a foamy feel, olive oil for deep hydration, and jojoba oil for balance and sebum regulation! ENJOY
for Face
using 1-2 pumps, begin to create a lather in clean hands using warm water. Apply to face & neck area using gentle circular motions to ease away dirt and unwanted oils. Complete your beauty ritual making sure to hydrate your skin!

for Body
apply directly to damp loofa, wash cloth or sponge- agitate the product gently to create a foam and then apply to body. Rinse & follow with moisturizer or body oil for best results.

While this product is helpful in removing makeup at the end of your day, you may find benefit from the addition of a makeup remover for heavier and waterproof makeup.



Each product offering is formulated & made by us, at our in-house Beauty Lab, in small batches. Due to the nature of raw plant materials, there may be some variation from batch to batch but our formula ratios remain the same.

*These statements have not been evaluated by the FDA. This product does not intend to treat, diagnose, cure, or prevent any disease. If you're pregnant, breastfeeding, or on any medications, please consult with a qualified health professional before beginning any new herbal products.
Love Note
Feel the revitalized & awakened energy of your Unique Beauty.