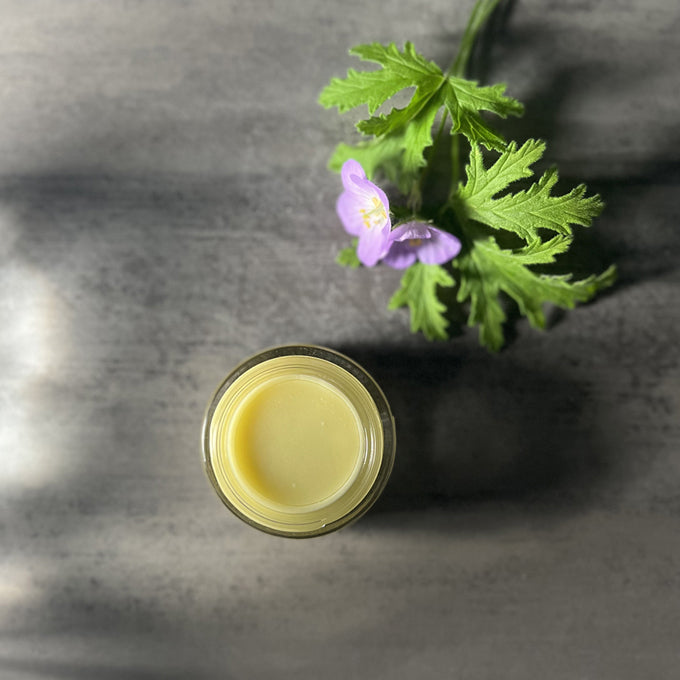 comfrey, yarrow, and arnica
This incredibly gentle salve is an all time hero, helping aches and pains, bruising, minor scars and skin abrasions, as well as having anti-bacterial and anti-fungal properties, there are endless uses for this balm.
Intended to be used for aiding a healthy skin with moisture and herbal stimulation by applying to affected area, with very mild citrus-grassy-sweet aromatics elevate your mood.
choose
1.15oz, glass jar
2.35oz, glass jar
proprietary blend of *arnica, *birch, calamus, *comfrey, *frankincense, *lavender, *lobelia, *mugwort, oakmoss, *rosemary, spikenard, *valerian, yarrow, yerba mansa, *olive oil, *coconut oil, beeswax and *lemongrass *organic Each product offering is formulated & made by us, at our in-house Beauty Lab, in small batches. Due to the nature of raw plant materials, there may be some variation from batch to batch but our formula ratios remain the same. *These statements have not been evaluated by the FDA. This product does not intend to treat, diagnose, cure, or prevent any disease. If you're pregnant, breastfeeding, or on any medications, please consult with a qualified health professional before beginning any new herbal products.
Apply topically to unbroken skin...

dermal sensitivities- apply to rashes, scratches, bruises, bug bites burns and more

on sunburns- we have had SO many people have success in their healing from too much sun

for cracked/dry skin- such as elbows, knees, hands, heels etc

for mild pain relief and anti-inflammatory action- apply topically to aches, and minor injuries to help facilitate expedited healing
Love Note
This is one of the first products we ever created at FTR. It has become a staple for all year use, enjoy.