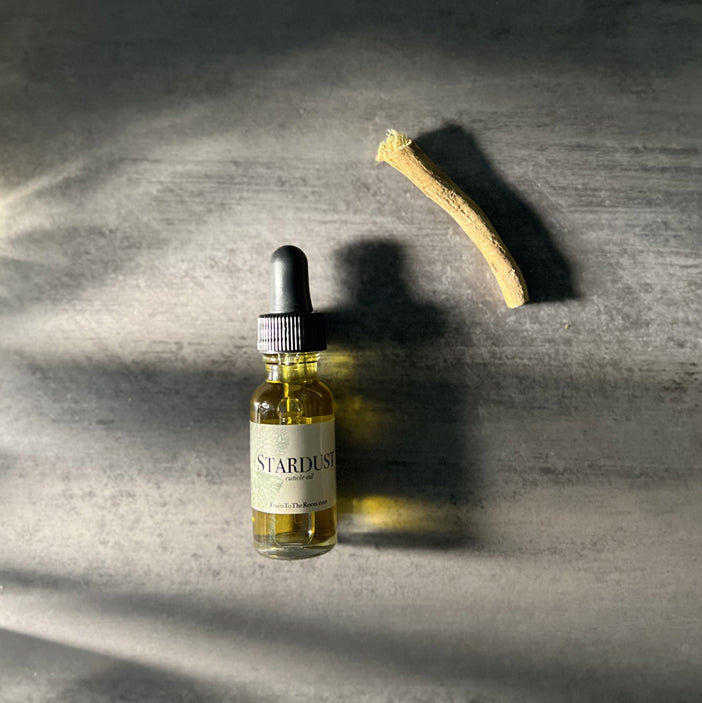 hemp oil, lemon, and copal
It really is amazing what one treatment is capable of, and this oil treatment is changing the way we see nail health!

Encouraging nail growth, calming irritated cuticles and reducing risk of hang nails, seemingly overnight.

With a combination of chosen botanicals to repair and restore, yes! It is that thing you never realized until now that you needed. You can thank us by showing off those strong- healthy nails.

0.5oz, glass bottle  
full ingredient list : *camellia oil, *apricot oil, *jojoba oil, *hemp oil, *lemon peel, palo santo, *frankincense, *copal, tagetes, vitamin e, mugwort, *calendula, *gotu kola, *horsetail, *immortelle flower, *licorice root, mica, moldavite, PROTECTION & RENEWAL *organic VEGAN
Apply to nail beds and cuticles daily massaging a few drops in with clean hands. Let absorb completely. Especially soothing after a warm bath or shower. Excellent over-night absorption.


Each product offering is formulated & made by us, at our in-house Beauty Lab, in small batches. Due to the nature of raw plant materials, there may be some variation from batch to batch but our formula ratios remain the same.

*These statements have not been evaluated by the FDA. This product does not intend to treat, diagnose, cure, or prevent any disease. If you're pregnant, breastfeeding, or on any medications, please consult with a qualified health professional before beginning any new herbal products.
Go Deeper...
Planet : Mars
Love Note
Moldavite 'activated' for out of this world strengthening