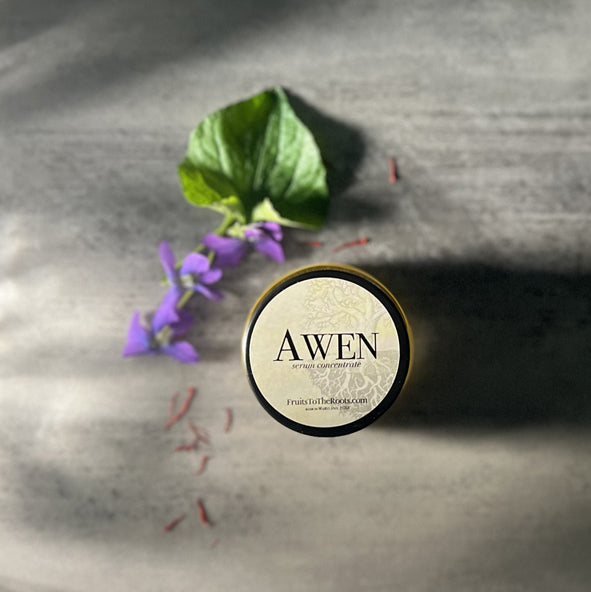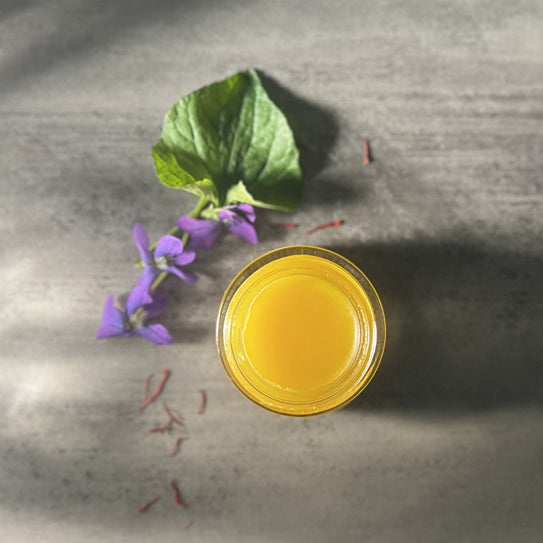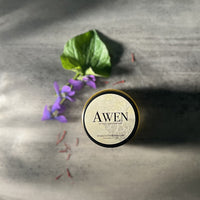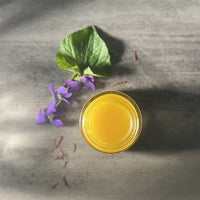 most, problematic, combonation, and dry
baobab, algae , and usnea
This balm, is packed with oils and butters chosen to help protect the skin and re-build the moisture barrier, creating a harmony between graceful aging & proper hydration.

With nourishing botanicals to enrich healing, reduce negative bacterias & stimulate lymphatic drainage. All that magic- while being silky smooth and easily absorbed!? We really couldn't be any more excited to share this concentrate with you.
Inspired by the transformative nature and symbolism of Cerridwen and their 'cauldron of knowledge & inspiration' from Celtic folklore 
1.15 oz, glass jar


Botanicals

Apricot Oil - High in Vitamin E, anti-inflammatory, helps skin contain moisture. Studies have shown to benefit overall skin health and reduce chance of skin cancer.

Baobab oil - indigenous to Africa, living up to 6000 years, this tree has been akin to the "Tree of Life". Containing high amounts of vitamins A, D, E this oil will absorb easily and abundantly into the deeper layers of the skin providing softening, regenerative and toning qualities to the skin.

Algae Extract - with DHA, an essential omega-3 fatty acid that improves skin barrier function, sealing in moisture which will help fight red, dry, or itchy skin caused by skin disorders like, dermatitis and psoriasis.

Camellia Oil - you may know this as the "TEA" plant! Providing ample amounts of vitamin A, B, E & natural Squalane, this wonder oil has been a part of skincare rituals for centuries. Improving overall skin health, this oil absorbs easily and readily into the skin.

Pomegranate oil - known to help rehab thinning skin, we use just enough of this oil to give moisture decadence and inflammatory relief to this concentrate, while also maintaining the easily absorbed feel.

Cocoa Butter - to reduce scarring, soothe and soften skin

Marshmallow Root- 'natures hyaluronic acid' helping with moisture retention and calming inflammation

Usnea & Horsetail- helping to heal and nourish skin
Saffron- to improve skin pigmentation, reduce skin impurities and soothe the healing process

*apricot oil, *baobab oil, *camellia oil, *pomegranate oil, *cocoa butter, algal oil, avocado oil, carrot oil, ~usnea, *marshmallow, *saffron, *ginkgo, *calendula, *mugwort, *horsetail, ~violet, *damiana, *angelica, *beeswax, *grapefruit, *lavender, *rosemary, *frankincense, vit e, *vetiver & *immortelle
*organic
~wild

Each product offering is formulated & made by us, at our in-house Beauty Lab, in small batches. Due to the nature of raw plant materials, there may be some variation from batch to batch but our formula ratios remain the same.

*These statements have not been evaluated by the FDA. This product does not intend to treat, diagnose, cure, or prevent any disease. If you're pregnant, breastfeeding, or on any medications, please consult with a qualified health professional before beginning any new herbal products.

for Face:
Melt a tiny amount, smaller than a pea, into clean, fresh, fully wet & toned skin - letting the potion caress every contour to full absorption
Our "concentrate" has zero water content, however it is designed to "mimic" a lotion or cream. The importance of FULLY WET / toned skin is a necessary step, as this is the 'water' that emulsifies the oils and waxes in the concentrate, helping it absorb nicely and create the perfect protective moisture barrier. Once absorbed - go ahead and apply an extra misting to lock in all that glorious moisture!

for Extended 'Treatment':
At night, melt a pea sized dollop into freshly cleaned skin, spritz with a toner/mist to lock in moisture and find sweet dreams.

for Body:
You can also use this super concentrate at full strength on scrapes, cuts, bruises, sunburns or patchy dry skin spots to help accelerate healing. Simply use clean hands and apply to the area. Repeat as necessary.
Go Deeper...
Planet : Moon & Venus

Love Note
Adorn yourself with this powerful acid mantle repair as suggested to get full benefits. We love this for nearly all skin types in every scenario.
L