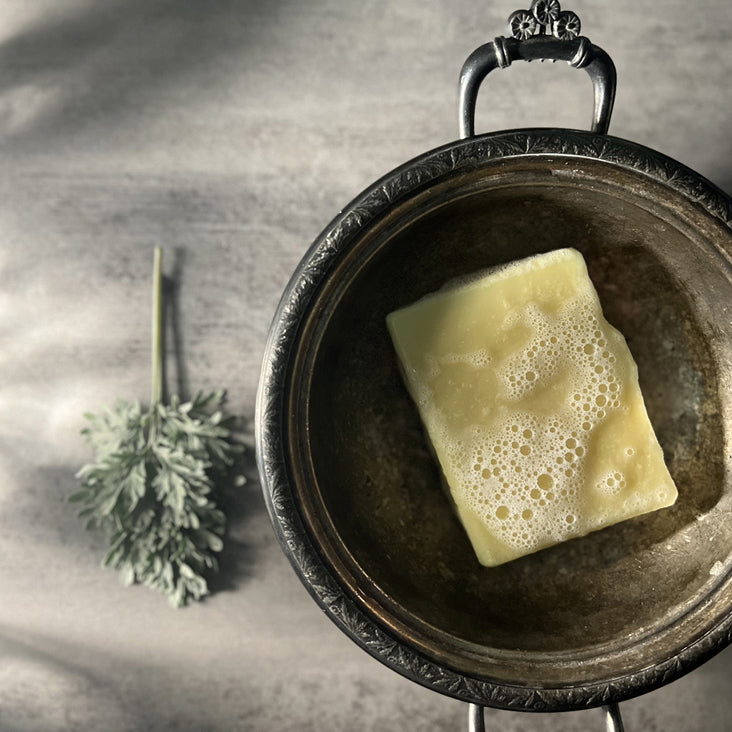 most skin types and combination
prickly pear, green tea, and absinthian botanicals
This item is under PRE-ORDER and may delay your shipment.

You are free. Wild you float on the wind, inspiring creativity and joy.
Add a touch of wonder to your bathing ritual with this absinthe inspired cleansing bar soap.
  
While we originally formulated these bars for body use, over the years we have come to see benefits for both the face & hair/scalp.
approximately 3.3oz | naked bar
Botanicals

Prickly Pear Seed oil & Green Tea extract -
both high in antioxidants
for SKIN this will benefit your skin's overall feel and appearance, while helping to protect from the elements and reduce irritants
for HAIR/SCALP you will feel the benefits of improved circulation, which helps to stimulate new hair growth

Absinthian Botanicals - add a playfulness and improved nutrients overall


full ingredient list : saponified *coconut, avocado and olive oils, with *prickly pear seed oil, *ho wood, fennel, anise, litsea cubeba, tagetes, hyssop, calamus, *lemon, *matcha, sodium lactate, and wormwood
Rub-a-dub-dub on that lovely skin in a bath or shower to remove dirt and refresh!

Tips
for optimum use & to extend the life of your soap

- store out of direct water
- allow bar to dry completely between uses
- switch between two bars day & night
- use a soap dish with proper drainage


Each product offering is formulated & made by us, at our in-house Beauty Lab, in small batches. Due to the nature of raw plant materials, there may be some variation from batch to batch but our formula ratios remain the same.

*These statements have not been evaluated by the FDA. This product does not intend to treat, diagnose, cure, or prevent any disease. If you're pregnant, breastfeeding, or on any medications, please consult with a qualified health professional before beginning any new herbal products.
Go Deeper...
Planet : Jupiter
Love Note
May the Green Faery inspire you to explore your true desires.