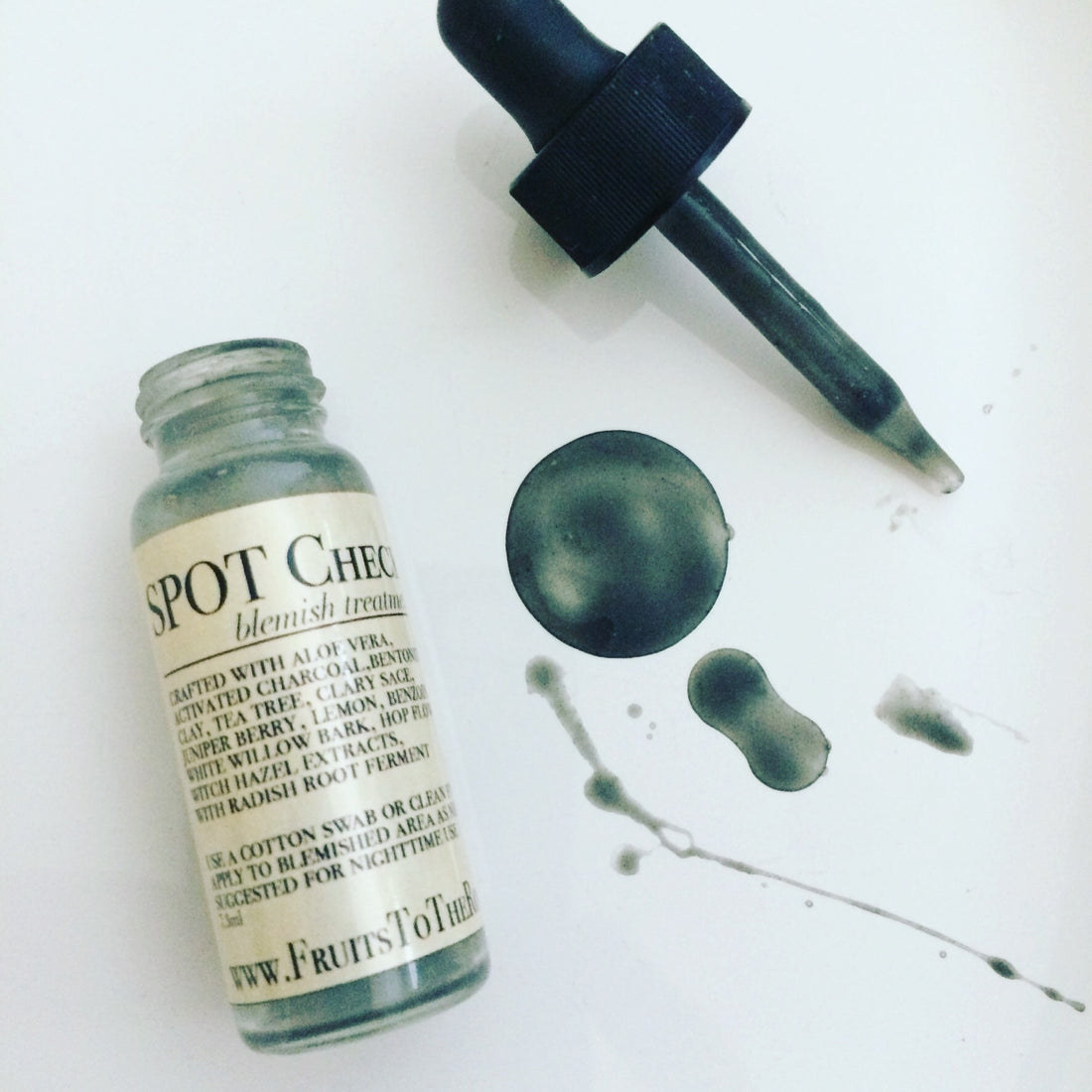 Spot Check, resistance mask
most skin types, combination, and acne-prone
hop flowers, activated charcoal, and willow bark
As often as one might daydream about unicorns, we don't really want to be one, right? Instead, battle that blemish or breakout with our go to detox face mask & spot treatment.

This therapeutic skin 'treatment' will help reduce clogged pores and soothe away skin woes, as well as help reduce any irritation such as itching and burning a blemish can create.

We know you will agree, it really works like a charm to dry up oily spots and soothe/calm down those blemishes for that organic beauty feel.
choose
1oz, glass bottle - NEW, with a convenient treatment pump (best for full face treatment & spot treatment)
2 dram | glass bottle - original size with dropper (best for spot treatment only)
CONTAINS NEW eco-cert approved preservative blend as of 6.1.2022
Botanicals

Willow Bark - to help reduce inflammation and soothe skin and blemishes

Activated Charcoal from Bamboo - to pull out any toxins hanging out near the surface of your skin

Hop Flowers & Tea Tree - to fight and calm bacteria

Witch Hazel - to reduce the appearance of pores and relieve any sensitive areas


full ingredient list : aloe vera, *witch hazel, lactobacillus ferment, bentonite clay, activated charcoal (from bamboo), *tea tree, *willow bark, *hop flower, *glycerin, *horsetail, clary sage, *lemon, benzoin, juniper berry, geranium, grapefruit, immortelle, rose, xanthan gum, benzyl alcohol, salicylic acid, sorbic acid, tetrasodium glutamate diacetate, CONFIDENCE & LOVE
*organic
VEGAN
For a Face Mask-
apply a few times a week as a 'treatment' for 15 minutes or until dry. You can loosen the mask by applying a warm/damp cloth to the face/neck area and gently removing the mask- or with warm water, splashing the face and neck until mask is removed. Follow with your normal toner, serum and or moisturizer. Can be used day or night.

Spot Treatment-
apply to blemishes and leave overnight. In the morning rinse & complete your beauty ritual. You can also use a bit of our Mystic, micellar water, on a cotton round to remove over more sensitive areas.


Each product offering is formulated & made by us, at our in-house Beauty Lab, in small batches. Due to the nature of raw plant materials, there may be some variation from batch to batch but our formula ratios remain the same.

*These statements have not been evaluated by the FDA. This product does not intend to treat, diagnose, cure, or prevent any disease. If you're pregnant, breastfeeding, or on any medications, please consult with a qualified health professional before beginning any new herbal products.
Go Deeper...
Planet : Moon
Love Note
Breathe and release your worries.

We suggest a cup of herbal tea while your mask works its magic.