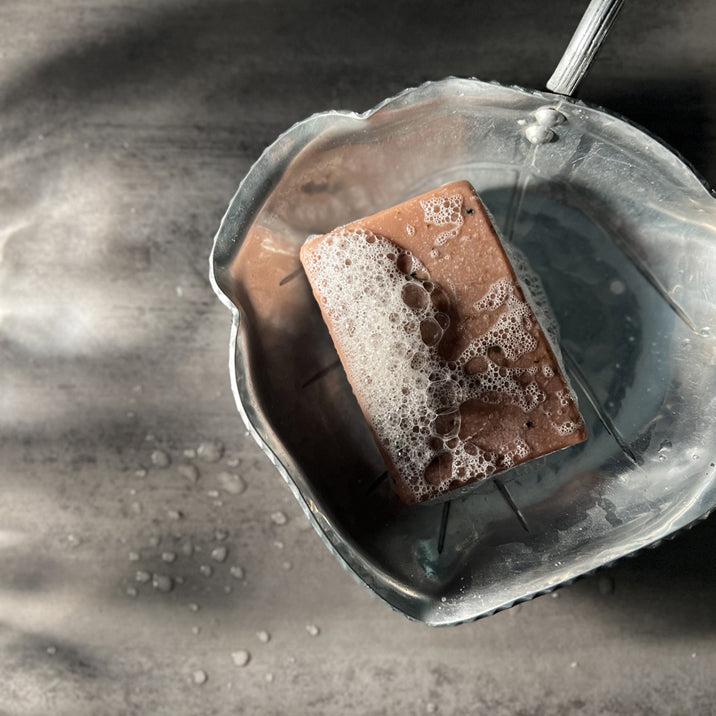 most skin types, problematic, and combination
beet root, pink clay, and elderflower
Intensely sensual, its rich-fragrance is bound to attracts desire for all. The sweet intoxication of its various citrus oils are balanced by the earthy musk of the clay.
Share this bar with your lover... you can thank us later.


While we originally formulated these bars for body use, over the years we have come to see benefits for both the face & hair/scalp.
approximately 3.3oz | naked bar
pink clay -
for SKIN will help reduce redness, unwanted oils and softly exfoliate delicate skin
for HAIR/SCALP this clay will help improve absorption of beneficial minerals and reduce buildup on the scalp

elderflower -
for SKIN reduce inflammation
for HAIR/SCALP boosting scalp circulation to improve strength

beetroot -
for SKIN helps to provide nutrients such as vitamin c to reduce breakouts and even out the skin tone
for HAIR/SCALP you may find this root benefits hair growth through improved circulation




full ingredient list : saponified *coconut oil, olive oil, *shea butter, *cocoa butter, rose (pink kaolin) clay, *beet juice, *elderflowers, *sweet orange, bergamot, blood orange, patchouli & sodium lactate
*organic
Rub-a-dub-dub on that lovely skin in a bath or shower to remove dirt and refresh!


Tips
FOR EXTENDED LIFE
- store out of direct water
- allow bar to dry completely between uses
- switch between two bars day & night
- use a soap dish with proper drainage


Each product offering is formulated & made by us, at our in-house Beauty Lab, in small batches. Due to the nature of raw plant materials, there may be some variation from batch to batch but our formula ratios remain the same.

*These statements have not been evaluated by the FDA. This product does not intend to treat, diagnose, cure, or prevent any disease. If you're pregnant, breastfeeding, or on any medications, please consult with a qualified health professional before beginning any new herbal products.
Go Deeper...
Planet : Saturn
Love Note
You deserve to be caressed with tenderness and care Unique Beauty.

This was amongst the first bar soaps we ever created. It is a tried and true FOREVER FAV.
Saturnalia calls to mind the carnival atmosphere of the ancient festival it was named after.