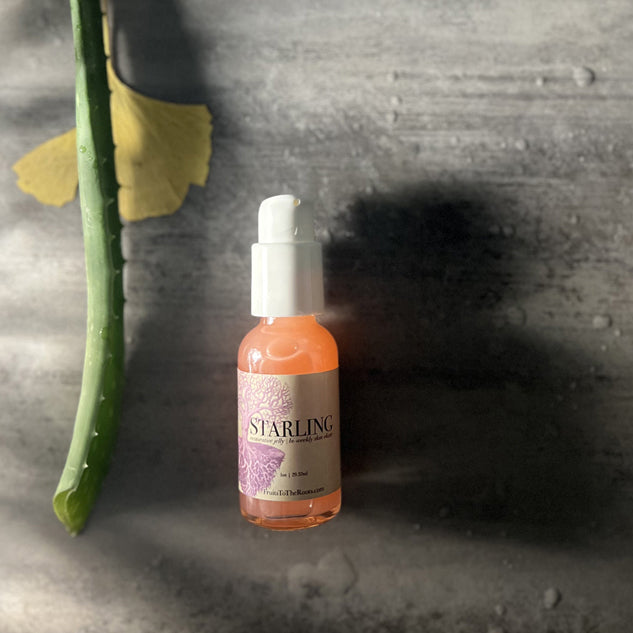 Starling, exfoliating gel mask
most skin types, graceful aging, and combination
fruit acids, watermelon, and peppermint
Dare your spirit to soar with this a cool, hydrating "gel" treatment- perfect for décolletage and warm weather facials!
This blend of botanicals helps expedite cellular regeneration and enhance barrier function- leaving a revived youthful feel, while soothing elements provide a touch of therapeutic anti-inflammatory relief. Also makes for a great 'spot treatment' on bug bites & blemishes.

Starling's PH : 3.5 - the sweet spot for 'complex fruit acids' to help offer the healthiest benefits to your skin, peeling away dead skin cells without causing acid mantle irritation!

Approximately 10-12 uses per bottle
1.15 oz, glass bottle
Botanicals

Exfoliating PLANT extracts : bilberry, sugar cane, orange, lemon & sugar maple - unlike chemical peels/acids, this powerhouse blend of natural alpha-hydroxy-acids, helps to gently exfoliate the skin, minimize the appearance of wrinkles, and gives an almost immediate feeling of being hydrated & nourished. Due to these plant AHA's abilities to increase cellular renewal this incredible blend is a knockout for all types of skin- problem skin, mature skin, & regular 'up-keep', alike!

watermelon fruit - to improve skin hydration & brighten complexion and improve overall appearance of fine lines

lady's mantle - this leafy plant will help reduce inflammation, bring a firming-like action to the skin and also reduce excess oil production

peppermint - helping bring brightness to dull and tired skin, known for its soothing/cool feel that reduces skin irritations, promoting healthy clear skin

dragons blood - this tree produces a bright 'blood red' resin that helps maintain a healthy skin barrier, improving repair & regeneration




full ingredient list : *peppermint hydrosol, *rosemary hydrosol, *witch hazel, aqua, Eco-Cert AHA extract (bilberry, sugar cane, orange, lemon & sugar maple), watermelon fruit, prickly pear flower extract, lady's mantle extract, *yerba santa extract, aloe vera, dragons blood (resin) extract, *licorice root extract, *ginkgo leaf extract,*glycerin, lactobacillus ferment, sodium hyaluronate (hyaluronic acid), benzyl alcohol, salicylic acid, sorbic acid, & guar gum

*organic
VEGAN
A few times a week, apply a generous layer of the 'gel' to clean skin for 15 minutes or until dry. You can loosen the mask by applying a warm/damp cloth to the face/neck area and gently removing the mask- or with warm water, splashing the face and neck until mask is removed. Follow with your normal toner, serum and or moisturizer. Can be used day or night.



Each product offering is formulated & made by us, at our in-house Beauty Lab, in small batches. Due to the nature of raw plant materials, there may be some variation from batch to batch but our formula ratios remain the same.

*These statements have not been evaluated by the FDA. This product does not intend to treat, diagnose, cure, or prevent any disease. If you're pregnant, breastfeeding, or on any medications, please consult with a qualified health professional before beginning any new herbal products.
Go Deeper...
Planet : Jupiter
Love Note
Dare your spirit to soar.